OPERA
A MASKED BALL
Repetition Jan 18, 2022, 6.30 PM
Antonín Dvořák Theatre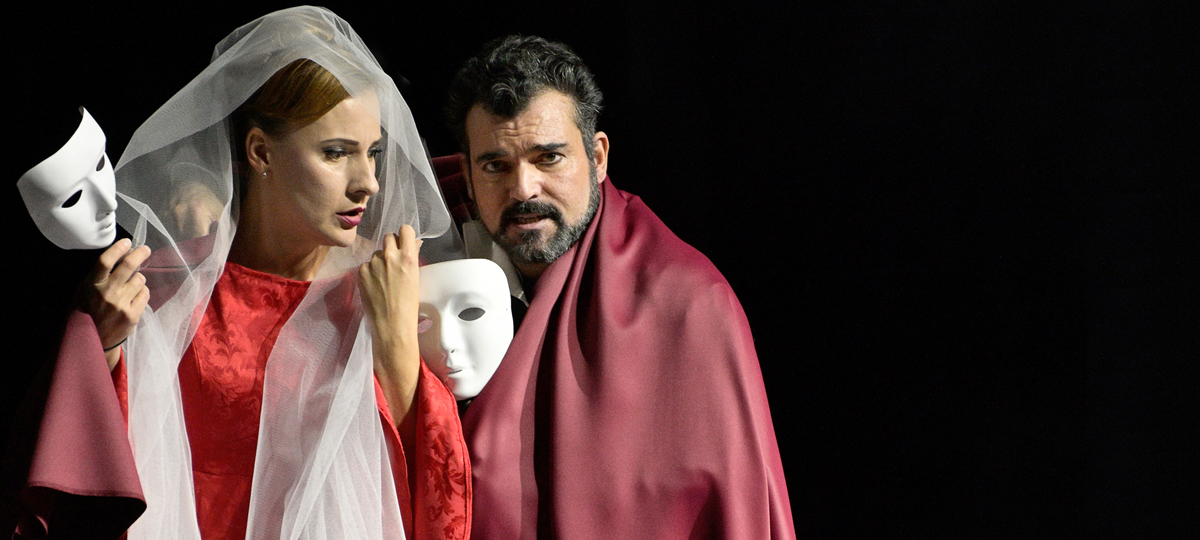 Detail
Realization Team / Cast
Show dates
Photo gallery
Repetition Jan 18, 2022, 6.30 PM - Antonín Dvořák Theatre
Opera in three acts from 1859
Informace
Libretto by

Antonio Somma

(1809–1864)

based on the libretto

Gustave III ou le Bal masque

by

Eugèn Scribe (1791–1861)

"You think nothing bad can happen to you because the love of your people protects you? Hate works much faster than love."

A Masked Ball by Giuseppe Verdi, which he finished in 1858, is his 23rd opera from 28 and opens the last six of his foremost musical dramas. The theme of the opera came, albeit marginally, from an historic event - the assassination of Swedish King Gustav III in 1792. It is by no means a purely historical-political opera. The main plot follows the love of King Gustav III to his Hand's wife. The controversy of forbidden love, responsibility towards a closest friend and the ruler's duties result in a series of misunderstandings that lead to a tragic conclusion. The libretto offered the composer a number of contrasting environments for the story, which he utilised with his musical-dramatic, theatrical images, alternating intimate and large opera scenes. The murder of the real King Gustav III had occurred due to the current political situation in Europe, which was one reason for censoring the composer's work. Eventually the plot was relocated from Sweden to America. The king became a Boston governor, the names of the characters changed to English, and the method of assassination was altered (King Gustav III was shot, whereas the Boston governor Richard is stabbed). The opera had its world premiere in 1859 in Rome, as well as being performed during the first season of the National Moravian-Silesian Theatre, and this is the version that will be heard in the first season of 2019/2020.

Performed in the Italian original with Czech and English subtitles.
Buy tickets
Production team
Cast at date: Jan 18, 2022
Dates
Date
Time
Stage
Type
Detail
Tickets
Dec 12, 2019
6.30 PM
Antonín Dvořák Theatre
Premiere
show detail
Dec 14, 2019
6.30 PM
Antonín Dvořák Theatre
2nd premiere
show detail
Dec 18, 2019
6.30 PM
Antonín Dvořák Theatre
Repetition
show detail
Dec 21, 2019
6.30 PM
Antonín Dvořák Theatre
Repetition
show detail
Dec 27, 2019
6.30 PM
Antonín Dvořák Theatre
Repetition
show detail
Jan 9, 2020
6.30 PM
Antonín Dvořák Theatre
Repetition
show detail
Jan 30, 2020
6.30 PM
Antonín Dvořák Theatre
Repetition
show detail
Feb 28, 2020
6.30 PM
Antonín Dvořák Theatre
Repetition
show detail
Mar 4, 2020
6.30 PM
Antonín Dvořák Theatre
Repetition
show detail
Mar 6, 2020
6.30 PM
Antonín Dvořák Theatre
Repetition
show detail
Nov 21, 2021
3.00 PM
Antonín Dvořák Theatre
Repetition
show detail
Nov 23, 2021
6.30 PM
Antonín Dvořák Theatre
Repetition
show detail
Jan 15, 2022
6.30 PM
Antonín Dvořák Theatre
Repetition
show detail
tickets
Jan 18, 2022
6.30 PM
Antonín Dvořák Theatre
Repetition
show detail
tickets
Jan 21, 2022
6.30 PM
Antonín Dvořák Theatre
Repetition
show detail
tickets
Feb 5, 2022
6.30 PM
Antonín Dvořák Theatre
Repetition
show detail
tickets
Gallery
Rehearsal gallery