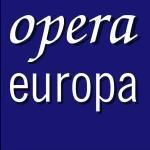 Opera Europa is the leading service organisation for professional opera companies and opera festivals throughout Europe. It currently serves 120 member companies from 36 different countries.

Opera Europa acts as a platform for discussion and collaboration on subjects of common concern to opera professionals, and encourages specialist forums to focus on specific areas of expertise. By increasing communication and interaction between opera houses, and by holding synchronised open days and events across Europe, Opera Europa hopes to promote and sustain awareness of opera as an art form to new and diverse audiences.
The National Moravian-Silesian Theatre has been a member of Opera Europa since 2005.
Opera Europa coordinates the European Opera Days in over 100 theatres throughout Europe and beyond. Each year on the occasion of the European Opera Days, opera houses open their doors and invite you to discover the art of opera – and what happens 'behind the scenes'.


European Opera Days 2012 in Ostrava
12 - 14 May 2012
European Opera Days 2011 in Ostrava
6 - 8 May 2011