European Opera days

at the National Moravian-Silesian Theatre
Ostrava

9.5. - 11.5. 2014


The National Moravian-Silesian Theatre in Ostrava will be hosting Opera days for the eight time this year already ! The theme of the European Opera days this year is 'journey to the opera', that's why we've prepared not Opera performances only, but also variety of accompanying programmes. We believe there is something for everyone in our programme and it will be our pleasure if you come and join us!

If you are interested in joining us at one of our workshops, please contact Mrs. Valerie Hendrychova –
valerie.hendrychova@ndm.cz
.

FRIDAY 9/6


1. Workshop accompanying
Mirandolina
performance
/ 15.30 – 17:30
FOR PEDAGOGUES / Test room / max. capacity 30 people
How to lead young audience to better understanding of the plot of the production and deeper experience from so called 'classical music'. Workshop accompanying the Mirandolina performance is orientated towards the opportunity of bringing Opera as a genre closer to young audience with the help of interactive methods and advancements of dramatic education. Methodic comments and activity tasters.
FOR STUDENTS AND PUBLIC / 15–20 years old / great ballet hall / max. capacity 30 people
2. ''Tempts of a beautiful Mirandolina'' – Workshop accompanying the production of the NDM Mirandolina
Does man confesses love to a woman or vice versa? When does flirtation becomes manipulation? In what way do we achieve our goals in men's world and in what way in women's world ? Why do we desire the one who keeps on rejecting us more and more? And where in all this is space for real love?
We shall be trying to answer all of these and many other questions with lightness in our workshop, all in the spirit of the Mirandolina inscenation. We will try to impersonate the comedy characters of the story, we will immerse into the theme of creating personal relationships between men and women including all intrigues and games which come with it and so intensify our experience.

3. Dramatic introduction to the Mirandolina performance / 18:00 – 18:20 / 1. balcony foyer
Performance of the Opera 'Mirandolina' / 18:30 – 20:50 / discounted entry fee 70 KC for those taking part in our workshop (available at the night box office an hour before the start of performance)
SATURDAY 10/6
1. Workshop accompanying the
Genoveva
performance
/ 15:30 – 17:30
FOR STUDENTS AND PUBLIC / Test room / max. capacity 30 people
2. ''Genoveva from the legend, romantic or modern?'' – Accompanying programme to the NDM Genoveva performance

...falling in love with an unattainable woman...inner conflicts and stormy emotions...love triangle...How were the romantic heroes of Schumann's Opera treating this facts. And how do we see them today?
Workshop Genoveva from the legend, romantic or modern' will offer to whose who will take part the opportunity to experience the feelings of the main characters. We will look into the story of Genoveva from different historic and other perspectives in our interactive discussions and forums. We will 'look into the cooking pot' of the authors of the story. We will intensify our experience from the performance that follows.

3. Dramaturgical introduction to the Genoveva performance / 18:00 – 18:20 / 1st balcony foyer
4. Performance of the Genoveva Opera / 18:30 – 21:30

Discounted entry fee 70KC for those taking part in our workshops will be (available at the night box office an hour before the start of performance)
SUNDAY 11/6


1. A dramaturgical ouverture to the performance
Jenufa
/ 15:30 – 15:50 / foyer of 1.balcony
2. Performance of the opera Její pastorkyňa / 16:00 – 18:45

3. Musical piece by G. Boccacio DECAMERON / 20:00 – 21:30 / rehearsal room Dvořák's Theatre

How to drive a devil to the hell, Dumb gardener, Nightingale, Horns for Horns, Three hundred lire – five of hundred stories in the new musical production inspired by works of G. Boccaccio (music + libretto P. Helebrand). Love stories of Decameron serves us with a slight exaggeration picture of the mentality and mores of people and Renaissance Italy today. A lover's love, desire, infidelity, betrayal, revenge and forgiveness in faith humorous events with light erotic touch are given a humorous and playful way. Starring soprano Veronika Holbová and Simona Mrázová, tenor Petr Nemec, Juraj Čiernik bassist and actor Michal Sedlacek, accompanied by a chamber orchestra composed of violin, flute, cello and guitar under the leadership of Vladimir Liberda.

For public older then 15 years

After the performance will follow a discussion with the author Pavel Helebrand!
9. 5. 2014 – Mirandolina
10. 5. 2014 – Genoveva
11. 5. 2014 – Dramaturgical ouverture to the performance Jenufa with Eva Urbanová
11. 5. 2014 – Jenufa
11. 5. 2014 – Musical piece by G. Boccacio DECAMERON
---
European Opera Days 2013 in Ostrava
11th and 13th May 2013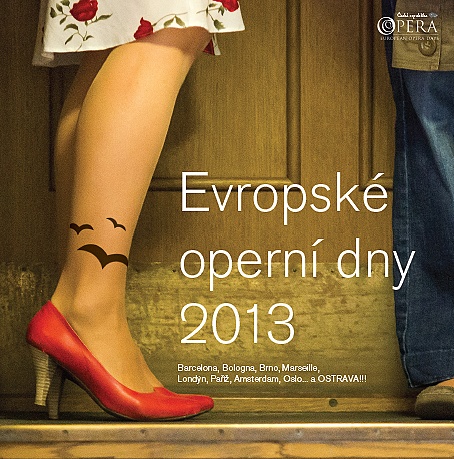 European Opera Days in Ostrava 2012
12 - 14 May 2012
European Opera Days in Ostrava 2011
6 - 8 May 2011