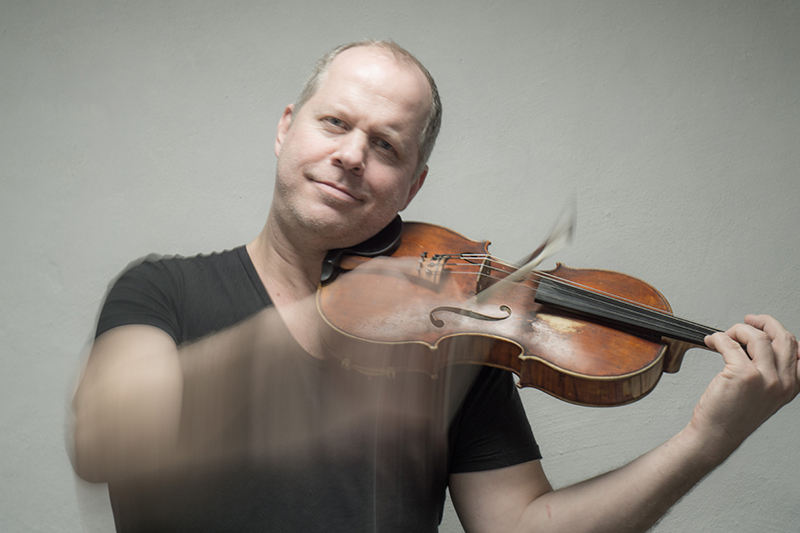 Bergmund Waal Skaslien is a composer and improvising viola player of high international caliber, with a unique sound. As a composer he has written for The TrondheimSoloists, The Norwegian National Opera Orchestra, Trondheim Symfoniorkester, Norwegian Broadcasting Orchestra KORK, Trondheim Sinfonietta, Alpacce Ensemble and Helgeland Sinfonietta. He has also composed music for numerous plays og ballets, multiple short films and Bergen International Festival.
He has contributed to redefine viola as an instrument for improvisation on the border between jazz, classical, and contemporary music.
With his «The Big Bang» that premiered 4th June 2014, he became the first viola player to be improvising soloist in a self-composed viola concert with a full symphony orchestra, namely Trondheim Symfoniorkester.
As composer Skaslien became the first Norwegian composer to get a piece premiered by The Norwegian National Opera Orchestra on the main stage at the Norwegian Opera as a part of a regular program, through the music for the ballet "The Wake" by Jo Strømgren (2011).
Skaslien was festival composer throughout the Lytt på Nytt festival in Mosjøen, Norway, (2015), with works commissioned by Helgland Sinfonietta and four other premieres.
He has written the opera "Storegut" based on texts by A.O.Vinje. This opera premiered in Bergen (2000).
As a jazz musician Skaslien has performed with Frode Haltli, Mathias Eick, Ola Kvernberg, Trondheim Jazzorkester, Tord Gustavsen, Maria Joa, Arve Henriksen, Bobby McFerrin, Jan Gunnar Hoff, Stian Westerhus, Jon Christensen, Alex Riel, Nils Økland, Helge Nordbakken, Eirik Hegdahl, Gard Nilssen, Per Oddvar Johansen, Thomas Strønen og John Scofield.
As a performer and composer Skaslien has created four shows in collaboration with two of the most accomplished interdisciplinary groups in Norway. With Jo Strømgren Kompani he made "Maskuline Mysterier" and "Ti År Etter" and with Verdensteateret "Louder" and "Konsert for Grønland", which received the prestigious American Bessie Award.
Skaslien plays viola with ensembles such as Trondheimsolistene, Trondheim Jazzorkester og Trondheim Sinfonieta.
He is known as a creative entrepreneur/performer within the realms of music and contemporary art with multiple projects bordering between concert and performance art.
He has been a performing musician on multiple records winning the Spellemannsprisen (Norwegian Grammy Awards) in the genres of jazz, classical, traditional, folk and pop.
Mahlerovy vzpomínky v Národním divadle moravskoslezském ukazují nádheru i ošklivost života
(3. 12. 2021)
Production team - Season: