DRAMA
GOLDONI ALLA OSTRAVA or the Servant of Two Masters
Premiere Sep 18, 2021, 6.30 PM
Antonín Dvořák Theatre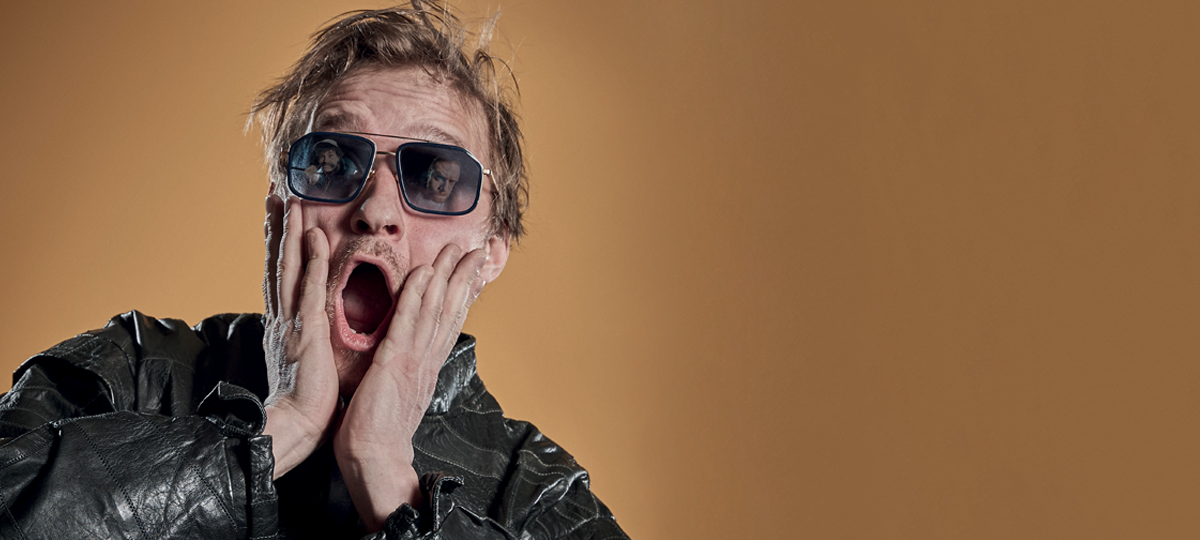 Detail
Realization Team / Cast
Show dates
Photo gallery
Articles, video, audio
GOLDONI ALLA OSTRAVA or the Servant of Two Masters
Premiere Sep 18, 2021, 6.30 PM - Antonín Dvořák Theatre
Informace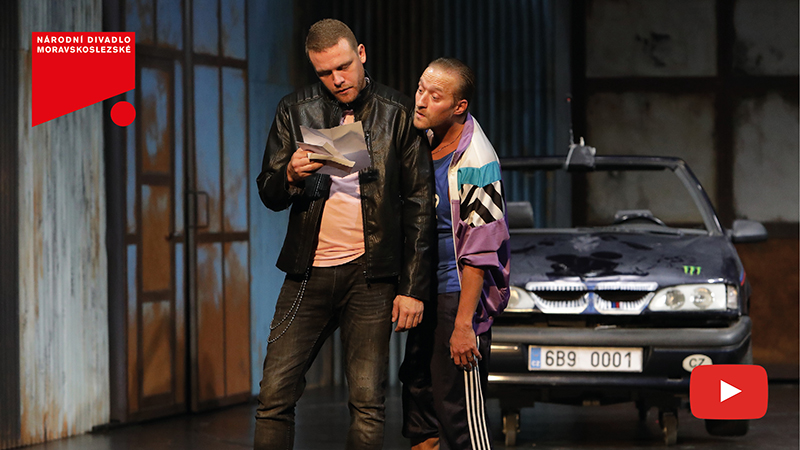 Stage director: Tomáš Svoboda

"And why couldn't a man serve two masters at one time? Receive two salaries, get double amount of meal vouchers… and take a vacation twice! Or is it better to take them both at the same time?

The adaptation of the famous comedy The Servant of Two Masters by Goldoni is tailor-made to Ostrava's environment. The play is set in Ostrava, all the characters speak the current language, using diverse vernaculars. Same as the original comedy, the production is abundant in the elements that are significant for the commedia dell'arte—comedic playfulness and gentle impertinence. It is the assistant Truf who is the protagonist of the story full of humorous twists and misunderstandings. He helps with love troubles, he knows everything, he solves everything, he is hard worker and lazybones at the same time. So why not to benefit from two employers? Just don't tell anybody!

World premiere on 18 September 2021 and the Antonín Dvořák Theatre.
Buy tickets
Production team
Cast - Season:
Dates
Date
Time
Stage
Type
Detail
Tickets
Sep 17, 2021
Antonín Dvořák Theatre
Veřejná generální zkouška
show detail
Sep 18, 2021
6.30 PM
Antonín Dvořák Theatre
Premiere
show detail
Sep 21, 2021
6.30 PM
Antonín Dvořák Theatre
1st repetition
show detail
Sep 28, 2021
4.00 PM
Antonín Dvořák Theatre
Repetition
show detail
Oct 10, 2021
4.00 PM
Antonín Dvořák Theatre
Repetition
show detail
Oct 22, 2021
6.30 PM
Antonín Dvořák Theatre
Repetition
show detail
Oct 23, 2021
6.30 PM
Antonín Dvořák Theatre
Repetition
show detail
Nov 25, 2021
6.30 PM
Antonín Dvořák Theatre
Repetition
show detail
Dec 16, 2021
6.30 PM
Antonín Dvořák Theatre
Repetition
show detail
Dec 28, 2021
6.30 PM
Antonín Dvořák Theatre
Repetition
show detail
Jan 11, 2022
6.30 PM
Antonín Dvořák Theatre
Repetition
show detail
Jan 22, 2022
6.30 PM
Antonín Dvořák Theatre
Repetition
show detail
Feb 18, 2022
6.30 PM
Antonín Dvořák Theatre
Repetition
show detail
Feb 26, 2022
6.30 PM
Antonín Dvořák Theatre
Repetition
show detail
Feb 27, 2022
4.00 PM
Antonín Dvořák Theatre
Repetition
show detail
Mar 1, 2022
6.30 PM
Antonín Dvořák Theatre
Repetition
show detail
Mar 18, 2022
6.30 PM
Antonín Dvořák Theatre
Repetition
show detail
Mar 30, 2022
6.30 PM
Antonín Dvořák Theatre
Repetition
show detail
Apr 14, 2022
6.30 PM
Antonín Dvořák Theatre
Repetition
show detail
Apr 23, 2022
6.30 PM
Antonín Dvořák Theatre
Repetition
show detail
May 7, 2022
6.30 PM
Antonín Dvořák Theatre
Repetition
show detail
May 12, 2022
6.30 PM
Antonín Dvořák Theatre
Repetition
show detail
Jun 1, 2022
6.30 PM
Antonín Dvořák Theatre
Repetition
show detail
Jun 2, 2022
6.30 PM
Antonín Dvořák Theatre
Repetition
show detail
Sep 24, 2022
6.30 PM
Antonín Dvořák Theatre
Repetition
show detail
Oct 29, 2022
6.30 PM
Antonín Dvořák Theatre
Repetition
show detail
Nov 5, 2022
6.30 PM
Antonín Dvořák Theatre
Repetition
show detail
Dec 10, 2022
6.30 PM
Antonín Dvořák Theatre
Repetition
show detail
Dec 30, 2022
6.30 PM
Antonín Dvořák Theatre
Repetition
show detail
Dec 31, 2022
4.00 PM
Antonín Dvořák Theatre
Repetition
show detail
Jan 6, 2023
6.30 PM
Antonín Dvořák Theatre
Repetition
show detail
Jan 17, 2023
6.30 PM
Antonín Dvořák Theatre
Repetition
show detail
Jan 24, 2023
6.30 PM
Antonín Dvořák Theatre
Repetition
show detail
Feb 15, 2023
6.30 PM
Antonín Dvořák Theatre
Repetition
show detail
Feb 24, 2023
6.30 PM
Antonín Dvořák Theatre
Repetition
show detail
Mar 16, 2023
6.30 PM
Antonín Dvořák Theatre
Repetition
show detail
Apr 6, 2023
6.30 PM
Antonín Dvořák Theatre
Repetition
show detail
May 25, 2023
6.30 PM
Antonín Dvořák Theatre
Repetition
show detail
May 31, 2023
6.30 PM
Antonín Dvořák Theatre
Repetition
show detail
Jun 16, 2023
6.30 PM
Antonín Dvořák Theatre
Repetition
show detail
Sep 6, 2023
6.30 PM
Antonín Dvořák Theatre
Repetition
show detail
Sep 16, 2023
6.30 PM
Antonín Dvořák Theatre
Repetition
show detail
Sep 28, 2023
4.00 PM
Antonín Dvořák Theatre
Repetition
show detail
Oct 7, 2023
6.30 PM
Antonín Dvořák Theatre
Repetition
show detail
Nov 19, 2023
3.00 PM
Antonín Dvořák Theatre
Repetition
show detail
Dec 17, 2023
4.00 PM
Antonín Dvořák Theatre
Repetition
show detail
Dec 26, 2023
4.00 PM
Antonín Dvořák Theatre
Repetition
show detail
Jan 30, 2024
6.30 PM
Antonín Dvořák Theatre
Repetition
show detail
Feb 25, 2024
4.00 PM
Antonín Dvořák Theatre
Repetition
show detail
Mar 28, 2024
6.30 PM
Antonín Dvořák Theatre
Repetition
show detail
Apr 17, 2024
6.30 PM
Antonín Dvořák Theatre
Repetition
show detail
May 12, 2024
3.00 PM
Antonín Dvořák Theatre
Repetition
show detail
May 29, 2024
6.30 PM
Antonín Dvořák Theatre
Repetition
show detail
Gallery
Články
Video
Audio
Související