DRAMA
THE GOOD DOCTOR
Premiere Nov 7, 2019, 7.00 PM
Divadlo "12"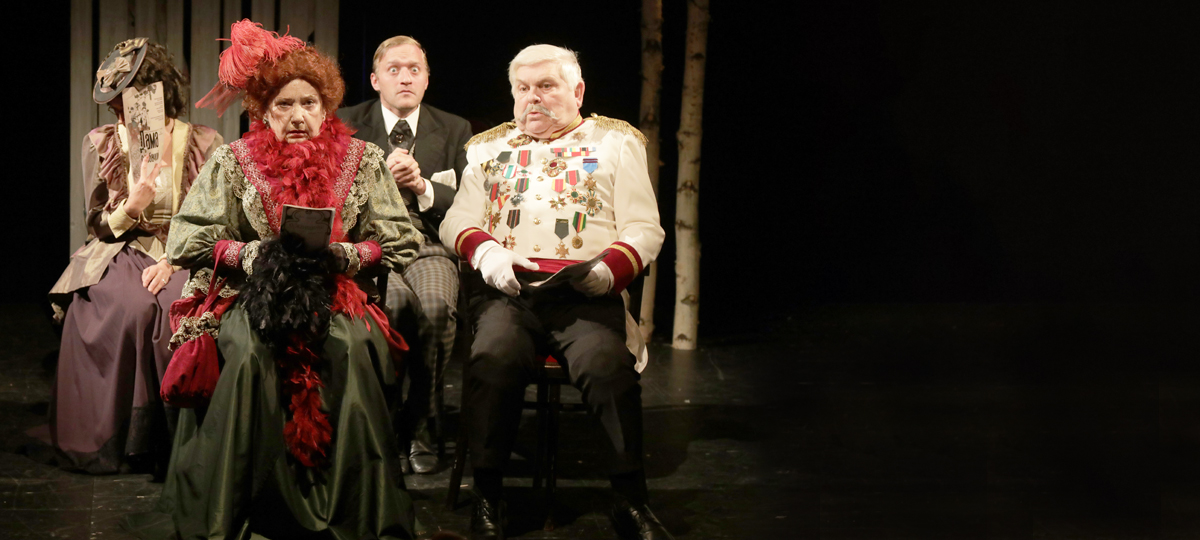 Detail
Realization Team / Cast
Show dates
Photo gallery
Articles, video, audio
THE GOOD DOCTOR
Premiere Nov 7, 2019, 7.00 PM - Divadlo "12"
Witty comedy based on A.P. Chekhov's short stories
Informace
Translation Ivo T. Havlů

"Three roubles, sir. No more than that. Three roubles and you will see him in the water, struggling with death, drowning and the grand final – completely drowned! May he rest in peace."

It has been 29 years since the three legends of Ostrava's drama scene met on stage. This year they meet again. The audience has a chance to see them in the production of Niel Simon's comedy. Directed by Bedrich Jansa, starring Alexandra Gasnarkova and Stanislav Sarsky!

Niel Simon is a master of dialogue; Chekhov is a master of describing human character. Combining the two we get nine exquisite, funny and very realistic theatre pieces. A man, who is willing to drown right in front of you for a few bucks and gives out group discounts; a father, who wants to buy his inexperienced son his "first time" in brothel, where even his "first" still works; a loner, who sneezes on the back of the neck of his boss and loses all over it… The tragedy of life seen through comedy, an intellectual view of the stupidity we all possess.
Buy tickets
Production team
Cast - Season:
Dates
Date
Time
Stage
Type
Detail
Tickets
Nov 7, 2019
7.00 PM
Divadlo "12"
Premiere
show detail
Nov 11, 2019
7.00 PM
Divadlo "12"
1st repetition
show detail
Nov 13, 2019
7.00 PM
Divadlo "12"
Repetition
show detail
Nov 20, 2019
7.00 PM
Divadlo "12"
Repetition
show detail
Dec 13, 2019
7.00 PM
Divadlo "12"
Repetition
show detail
Dec 19, 2019
7.00 PM
Divadlo "12"
Repetition
show detail
Jan 19, 2020
7.00 PM
Divadlo "12"
Repetition
show detail
Jan 26, 2020
7.00 PM
Divadlo "12"
Repetition
show detail
Feb 3, 2020
7.00 PM
Divadlo "12"
Repetition
show detail
Feb 18, 2020
7.00 PM
Divadlo "12"
Repetition
show detail
Feb 28, 2020
7.00 PM
Divadlo "12"
Repetition
show detail
Sep 22, 2021
7.00 PM
Divadlo "12"
Repetition
show detail
Sep 26, 2021
7.00 PM
Divadlo "12"
Repetition
show detail
Sep 30, 2021
7.00 PM
Divadlo "12"
Repetition
show detail
Oct 7, 2021
7.00 PM
Divadlo "12"
Repetition
show detail
Oct 24, 2021
4.00 PM
Divadlo "12"
Repetition
show detail
Nov 17, 2021
4.00 PM
Divadlo "12"
Repetition
show detail
Dec 13, 2021
7.00 PM
Divadlo "12"
Repetition
show detail
Dec 18, 2021
7.00 PM
Divadlo "12"
Repetition
show detail
Jan 6, 2022
7.00 PM
Divadlo "12"
Repetition
show detail
Jan 13, 2022
7.00 PM
Divadlo "12"
Repetition
show detail
Feb 13, 2022
4.00 PM
Divadlo "12"
Repetition
show detail
Feb 19, 2022
7.00 PM
Divadlo "12"
Repetition
show detail
Mar 4, 2022
7.00 PM
Divadlo "12"
Repetition
show detail
Mar 12, 2022
7.00 PM
Divadlo "12"
Repetition
show detail
Apr 6, 2022
7.00 PM
Divadlo "12"
Repetition
show detail
Apr 9, 2022
7.00 PM
Divadlo "12"
Repetition
show detail
May 15, 2022
4.00 PM
Divadlo "12"
Repetition
show detail
May 21, 2022
7.00 PM
Divadlo "12"
Repetition
show detail
Oct 28, 2022
4.00 PM
Divadlo "12"
Repetition
show detail
Nov 8, 2022
7.00 PM
Divadlo "12"
Repetition
show detail
Nov 10, 2022
7.00 PM
Divadlo "12"
Repetition
show detail
Feb 18, 2023
7.00 PM
Divadlo "12"
Repetition
show detail
tickets
Mar 18, 2023
7.00 PM
Divadlo "12"
Repetition
show detail
tickets
Apr 4, 2023
7.00 PM
Divadlo "12"
Repetition
show detail
tickets
May 5, 2023
7.00 PM
Divadlo "12"
Repetition
show detail
tickets
May 12, 2023
7.00 PM
Divadlo "12"
Derniere
show detail
tickets
Rehearsal gallery
Články
Video
Audio
Související