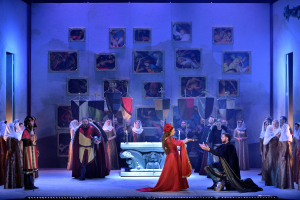 ROBERT LE DIABLE
V turnaji budou pokoušet štěstí všichni naši rytíři, pro slávu a pro svou dámu.
Princ z Granady žádá, aby byl ozbrojen vaší rukou.

Tomasz Suchanek
(Master of ceremonies),
Jana Sibera
(Isabelle, Princess of Sicily Palmide),
Miloš Horák
(Bertram, his friend)
Photo by: Martin Popelář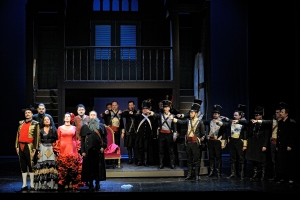 THE BARBER OF SEVILLE!!!
Svatopluk Sem
(Figaro, barber),
Martin Gurbaľ
(Basilio, Rosina's music teacher),
Eva Dřízgová-Jirušová
(Berta, old governess in Bartolo's house),
Veronika Rovná
(Rosina, rich pupil in Bartolo's house),
Miloš Horák
(Bartolo, doctor of medicine, Rosina's guardian),
Martin Šrejma
(Count Almaviva),
Tomasz Suchanek
(Officer)
Photo by: Martin Popelář