OPERA
ROBERT LE DIABLE
Premiere Jun 13, 2019, 6.30 PM
Antonín Dvořák Theatre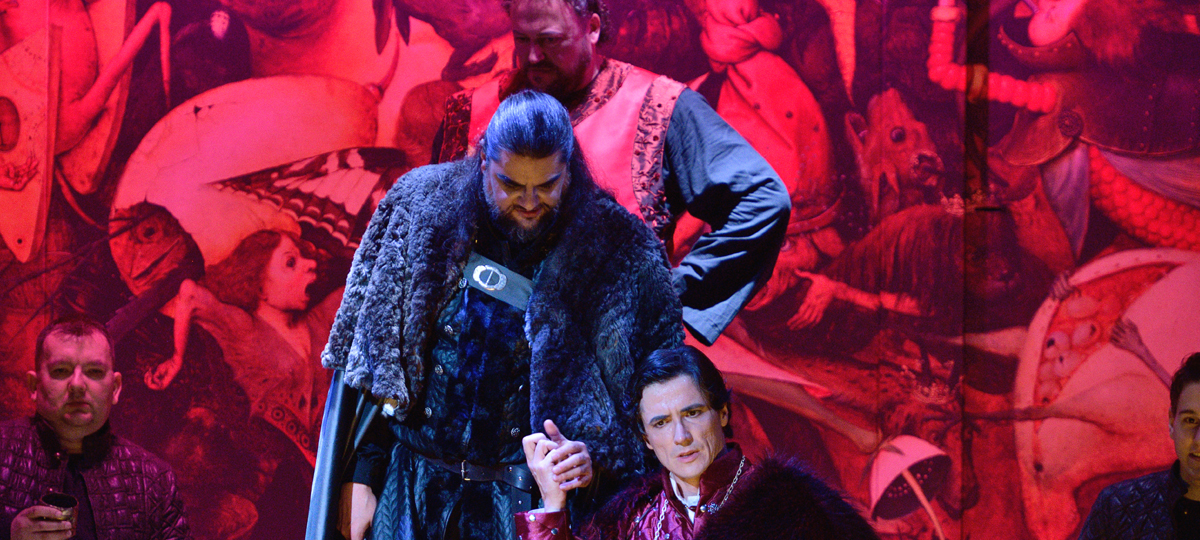 Detail
Realization Team / Cast
Show dates
Photo gallery
ROBERT LE DIABLE
Premiere Jun 13, 2019, 6.30 PM - Antonín Dvořák Theatre
An opera-ballet mystery about a dark knight
Informace
Giacomo Meyerbeer (1791–1864)

By the mid 19th century the French audience loved pompous operas with great ballet performances together with luxurious scenery and bombastic effects. By introducing Robert le diable,Meyerbeer became a leader of this challenging genre. His work was so popular that it could even compete with Gioacchino Rossini's works. Chopin himself called it "a masterpiece where the devils sing with the loudhailers and the dead get out of the tombs". The opera could be called the legend about the desire for love, honor, power and immortality that the medieval knight represents. His "Faustian" story full of devilish seductions is, however, traditionally in French: Wine, game and beauties – these are our only loves!
Performed in French with Czech and English subtitles.
Buy tickets
Production team
Cast - Season:
Dates
Date
Time
Stage
Type
Detail
Tickets
Jun 12, 2019
10.00 AM
Antonín Dvořák Theatre
Veřejná generální zkouška
show detail
Jun 13, 2019
6.30 PM
Antonín Dvořák Theatre
Premiere
show detail
Jun 15, 2019
6.30 PM
Antonín Dvořák Theatre
2nd premiere
show detail
Jun 19, 2019
6.30 PM
Antonín Dvořák Theatre
Repetition
show detail
Sep 18, 2019
6.30 PM
Antonín Dvořák Theatre
Repetition
show detail
tickets
Sep 24, 2019
6.30 PM
Antonín Dvořák Theatre
Repetition
show detail
tickets
Oct 3, 2019
6.30 PM
Antonín Dvořák Theatre
Repetition
show detail
tickets
Oct 9, 2019
6.30 PM
Antonín Dvořák Theatre
Repetition
show detail
tickets
Nov 22, 2019
6.30 PM
Antonín Dvořák Theatre
Repetition
show detail
tickets
Jan 17, 2020
6.30 PM
Antonín Dvořák Theatre
Repetition
show detail
Jan 21, 2020
6.30 PM
Antonín Dvořák Theatre
Repetition
show detail
May 21, 2020
6.30 PM
Antonín Dvořák Theatre
Repetition
show detail
May 24, 2020
3.00 PM
Antonín Dvořák Theatre
Repetition
show detail
Jun 6, 2020
6.30 PM
Antonín Dvořák Theatre
Repetition
show detail
Jun 12, 2020
9.00 PM
Repetition
show detail
Rehearsal gallery