MUSICAL
INTERVIEW
Premiere Nov 29, 2023, 7.00 PM
Divadlo "12"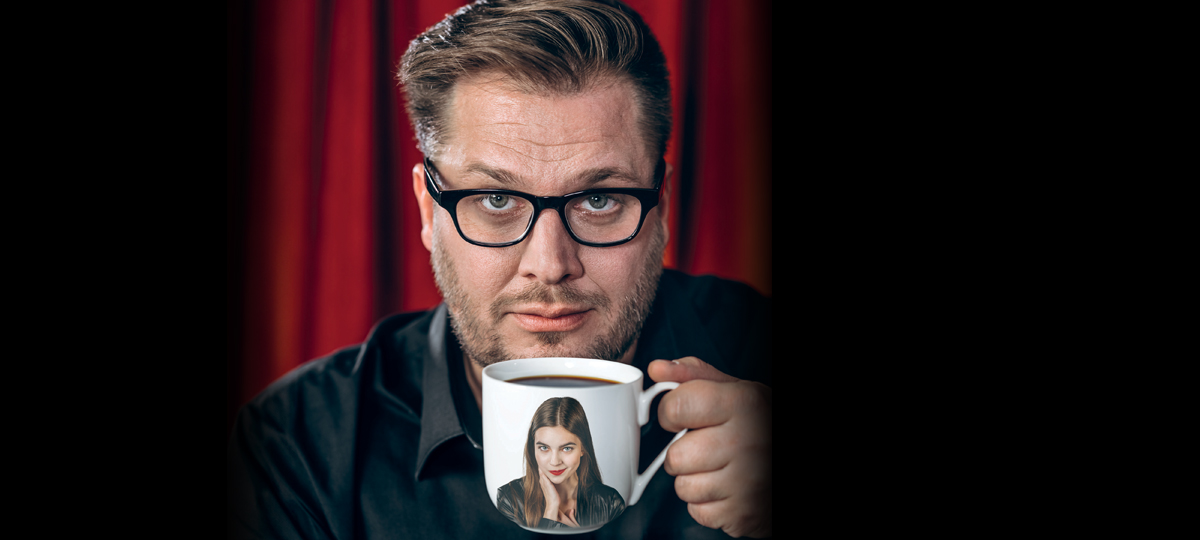 Detail
Realization Team / Cast
Show dates
Articles, video, audio
INTERVIEW
Premiere Nov 29, 2023, 7.00 PM - Divadlo "12"
It was supposed to be just an interview
Informace
Stage director Marek David
Conductor Jakub Žídek

In a stale radio show, the experienced host has one guest after another. The interviews have become a mixture of routine, boredom and frivolity until a strange woman joins him in the studio. At that moment, a permanent struggle and an inscrutable clash of two completely different worlds and attitudes in life begins. In normal life, they probably wouldn't have met. But for one hour, the shabby studio becomes a prison from which there is no escape. Can the two individuals find common ground and a topic of conversation...?
This original Czech musical is tailor-made for the National Moravian-Silesian Theatre. For the first time ever, the renowned Brno composer Zdeněk Král collaborates with the NMST's musical ensemble. Author of the subject matter Marek David is at the same time the stage director. The script and lyrics were written by Tomáš Novotný. The cast includes Veronika Boráková and Tomáš Savka.

World premiere on 1 December 2023 at the Theatre "12"

| | | |
| --- | --- | --- |
| Media Partners: | | |
| Partners: | | |
Buy tickets
Production team
Cast - Season:
Dates
Date
Time
Stage
Type
Detail
Tickets
Nov 29, 2023
7.00 PM
Divadlo "12"
Premiere
show detail
Dec 2, 2023
7.00 PM
Divadlo "12"
1st repetition
show detail
Dec 6, 2023
7.00 PM
Divadlo "12"
Repetition
show detail
Dec 16, 2023
7.00 PM
Divadlo "12"
Repetition
show detail
Dec 22, 2023
7.00 PM
Divadlo "12"
Repetition
show detail
Jan 4, 2024
7.00 PM
Divadlo "12"
Repetition
show detail
Jan 5, 2024
7.00 PM
Divadlo "12"
Repetition
show detail
Jan 18, 2024
7.00 PM
Divadlo "12"
Repetition
show detail
Jan 25, 2024
7.00 PM
Divadlo "12"
Repetition
show detail
Jan 30, 2024
7.00 PM
Divadlo "12"
Repetition
show detail
Feb 6, 2024
7.00 PM
Divadlo "12"
Repetition
show detail
Feb 22, 2024
7.00 PM
Divadlo "12"
Repetition
show detail
Mar 6, 2024
7.00 PM
Divadlo "12"
Repetition
show detail
Apr 2, 2024
7.00 PM
Divadlo "12"
Repetition
show detail
Apr 18, 2024
7.00 PM
Divadlo "12"
Repetition
show detail
Apr 19, 2024
7.00 PM
Divadlo "12"
Repetition
show detail
May 7, 2024
7.00 PM
Divadlo "12"
Repetition
show detail
May 24, 2024
7.00 PM
Divadlo "12"
Repetition
show detail
Jun 1, 2024
7.00 PM
Divadlo "12"
Repetition
show detail
Jun 6, 2024
7.00 PM
Divadlo "12"
Repetition
show detail
Jun 7, 2024
7.00 PM
Divadlo "12"
Repetition
show detail
Jun 19, 2024
7.00 PM
Divadlo "12"
Repetition
show detail
Jun 25, 2024
7.00 PM
Divadlo "12"
Repetition
show detail
Články
Video
Audio
Související