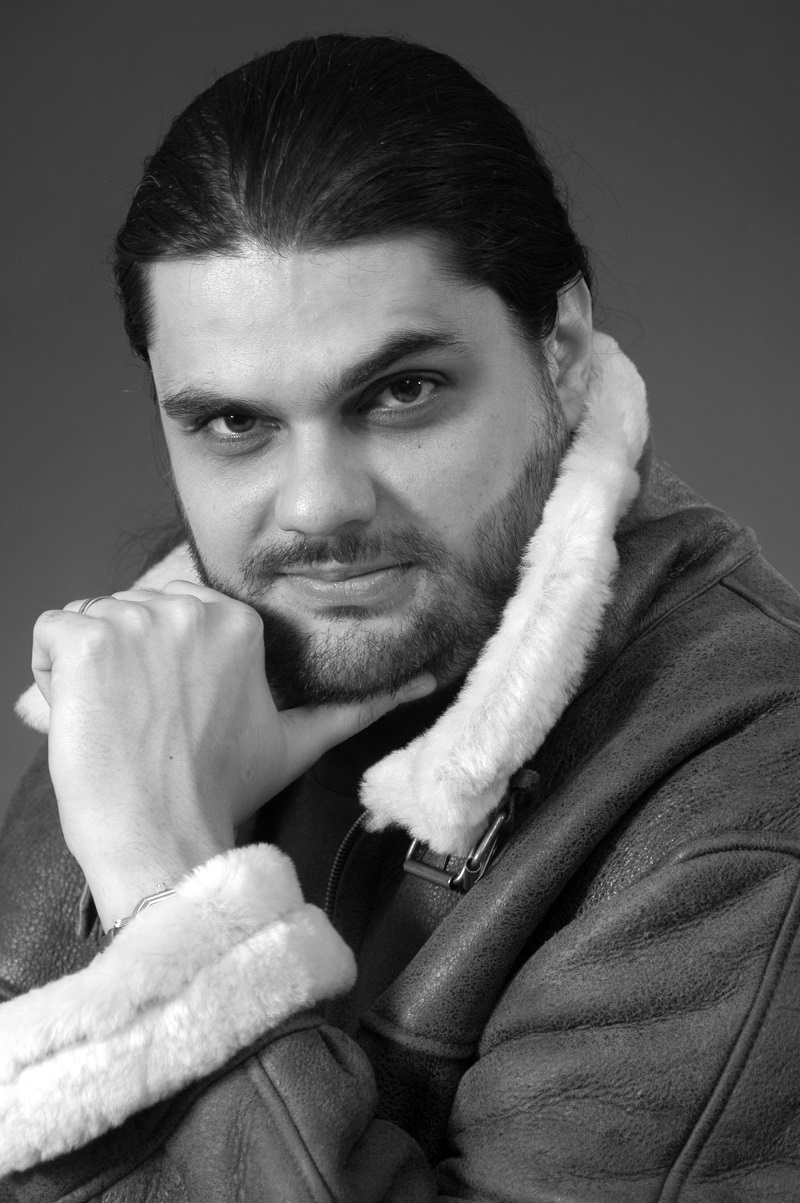 Martin Gurbaľ (1974) hails from Slovakia. From 1991–1997 he studied at the conservatory in Košice with Ľudmila Šomorjaiová and then progressed to solo singing at the University of Ostrava, where since 2015 he commenced his pedagogical carreer in the department of solo singing.
He successfully participated in several singing competitions and (among others) won the International Antonín Dvořák Singing Competition in Karlovy Vary in 1996, took second place in the Mikuláš Schneider-Trnavský Competition and in the International Lucia Popp Competition in Bratislava.
From 1995 to 2001 he was a soloist at the Opera in Košice (Slovakia) and since 2001 has been a soloist of the National Moravian-Silesian Theatre in Ostrava (Czech Republic). He is a regular guest of the National Theatre in Prague and Brno, Slovak National Theatre, and other theatres in the Czech Republic, the Slovak Republic and Poland.
His vocal and technical expertise allows him to interpret a wide repertoire of opera, cantata, oratory and song creations, particularly the works of Giuseppe Verdi, Antonín Dvořák and Leoš Janáček.
His repertoire includes numerous significant roles (bass – low baritone):
Béla Bartók – BLUEBEARD'S CASTLE (Bluebeard),
Benjamin Britten – THE RAPE OF LUCRETIA (Collatinus), A MIDSUMMER NIGHT'S DREAM (Theseus)
Gaetano Donizetti – ANNA BOLENA (Henry VIII.), DON PASQUALE (Don Pasquale)
Charles Gounod – FAUST (Méphistophélés), ROMEO AND JULIET (Frère Laurent)
Paul Hindemith – CARDILLAC (The gold merchant)
Wolfgang Amadeus Mozart – THE MARRIAGE OF FIGARO (Bartolo / Count Almaviva), DON GIOVANNI (Don Giovanni), COS? FAN TUTTE (Guglielmo / Don Alfonso), LA CLEMENZA DI TITO (Publio), THE MAGIC FLUTE (Sarastro)
Sergei Prokofiev – THE FIERY ANGEL (Inquisitor)
Giacomo Puccini – MANON LESCAUT (Geronte di Ravoir), LA BOHÈME (Colline), TURANDOT (Timur)
Gioachino Rossini – THE BARBER OF SEVILLE (Basilio), THE ITALIAN GIRL IN ALGIERS (Mustafä)
Richard Strauss – ARIADNE ON NAXOS (Truffaldin)
Pyotr Ilyich Tchaikovsky – EUGENE ONEGIN (Prince Gremin)
Ambroise Thomas – HAMLET (Claudius)
Giuseppe Verdi – NABUCCO (Zaccaria), ERNANI (Don Ruy Gomez de Silva), MACBETH (Banco), THE TROUBADOUR (Ferrando), THE SICILIAN VESPERS (Jean Procida), THE POWER OF FATE (Padre Guardiano), DON CARLOS (Ikvizitor), AIDA (The King of Egypt / Ramfis)
Richard Wagner – TANNHÄUSER (Hermann)
Czech repertoire
Antonín Dvořák – ARMIDA (Hydraot), RUSALKA (Water goblin)
Leoš Janáček – JENŮFA (Mayor), THE EXCURSIONS OF MR. BROUČEK TO THE MOON AND TO THE 15TH CENTURY (Sacristan / Lunigrove / Domšík from the Bell), KÁŤA KABANOVÁ (Savël Prokofjevic Dikój), THE CUNNING LITTLE VIXEN, (Forester), THE MAKROPULOS AFFAIR (Lawyer Dr. Kolenatý)
Bohuslav Martinů – THE GREEK PASSION (Grigoris), MIRANDOLINA (Marchese di Forlimpopoli)
Bedřich Smetana – THE BRANDENBURGERS IN BOHEMIA (Old villager), THE BARTERED
In addition to his operatic work, he has sung many of the great choral and orchestral vocal works with the world's most distinguished Czech conductors Jiří Bělohlávek, Tomáš Hanus, Tomáš Netopil and Jakub Hrůša. He has guest appeared in numerous opera houses and concert venues throughout Europe, where he often sings at concerts, for example: Haydn's Creation, Berlioz's La damnation de Faust, Dvořák's Stabat Mater, Te Deum, Requiem, Biblical Songs, Verdi's Requiem, Janáček's Glagolitic Mass (also in the Opera di Firenze), song series of Romantic composers, or other less known pieces. Martin Gurbaľ has performed at concert halls in many European countries with the Czech Philharmonic, the Slovak Philharmonic, Budapest Philharmonic Orchestra, Orchestra di Guiseppe Verdi di Milano (Verdi's Requiem), Odense Symphony Orchestra, Gothenburg Symphony Orchestra, Latvian National Symphony Orchestra, Tokyo Metropolitan Symphony Orchestra ec.
He has frequently performed at the International opera and music festival Janáček Brno (2010 and 2014: THE EXCURSIONS OF MR. BROUČEK TO THE MOON AND TO THE 15TH CENTURY, 2012: KÁŤA KABANOVÁ), has appeared at the Opera Festival in Miskolc (Bartók + Verdi, 2001), and OPA Pisa – Anima Mundi (10th September 2016 with Svatá Ludmila /Saint Ludmila/ by Antonín Dvořák).
He recorded Janáček's THE CUNNING LITTLE VIXEN (Forester; Revírník in Czech) – an animated version produced by the BBC.
Foto: Josef Hradil
Update December 2017
| | |
| --- | --- |
| ANDREA CHÉNIER | Pietro Fléville, a novelist |
| CHORUS GALA CONCERT | Singers |
| HAMLET | Claudius, King of Denmark, brother of the late King Hamlet |
| L2! | |
| LA CLEMENZA DI TITO | Publio, prefect of the praetorian guard |
| LA TRAVIATA | Dottore Grenvil |
| ROBERTO DEVEREUX | Sir Gualtiero Raleigh |
| SECRET | Malina, a councillor |
| TEMPEST | Stefano, adventurer, cellarman and drunk |
| THE BARBER OF SEVILLE!!! | Basilio, Rosina's music teacher |
| THE BARTERED BRIDE | Kecal, a marriage broker |
| THE BRANDENBURGERS IN BOHEMIA | Old villager |
| THE RAPE OF LUCRETIA | Collatinu, a Roman general |
JULIETTE, OR THE KEY OF DREAMS
Luciano Mastro
(Michel),
Denisa Bílá
(Woman selling birds and poultry / First gentleman),
Martin Gurbaľ
(Old Arab / Grandfather / The old sailor / Voice from behind / The nightwatchman),
Jakub Kettner
(Man with the helmet / The seller of memories / The beggar),
Alžběta Vomáčková
(Woman selling fish - Fortune teller),
Ondřej Koplík
(The police officer / The messenger / The forest guard / The railway engineer),
Markéta Cukrová
(Small Arab / The young sailor / Chasseur),
Ivana Ambrúsová
(Second gentleman),
Jan Šťáva
(Man in the window / Grandfather Youth / The convict)
Photo by: Martin Popelář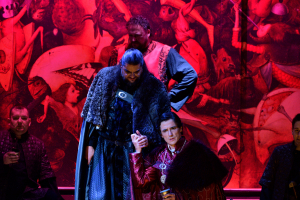 ROBERT LE DIABLE
Osud pekelný a zhoubný mne pronásleduje, utlačuje…

Martin Gurbaľ
(Bertram, his friend),
José Manuel
(Robert, Duke of Normandy)
Photo by: Martin Popelář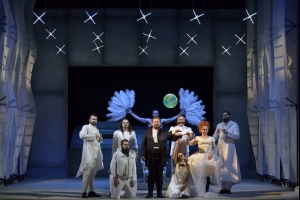 EXCURSIONS OF MR BROUCEK
Josef Moravec
(Painter, voice / Duhoslav / Vojta),
Michal Vojta
(Composer, Harper, Miroslav, the goldsmith),
Jiří Brückler
(Poet, Cloudy, Vacek the Bearded),
Arnold Bezuyen
(Matěj Brouček, a landlord),
Jindřich Panský
(Pegasus / Ghost),
Alexandr Beň
(Würfl, a bartender, Wonderglitter, councillor),
Martina Vlčková
(Young waiter at bar, Child prodigy, Student),
Agnieszka Bochenek-Osiecka
(Málinka, his daughter, lunar goddess, Kunka),
Martin Gurbaľ
(Sacristan, Lunigrove, Domšík from the Bell)
Photo by: Martin Popelář