OPERA
THE KISS
Premiere Sep 23, 2021, 6.30 PM
Antonín Dvořák Theatre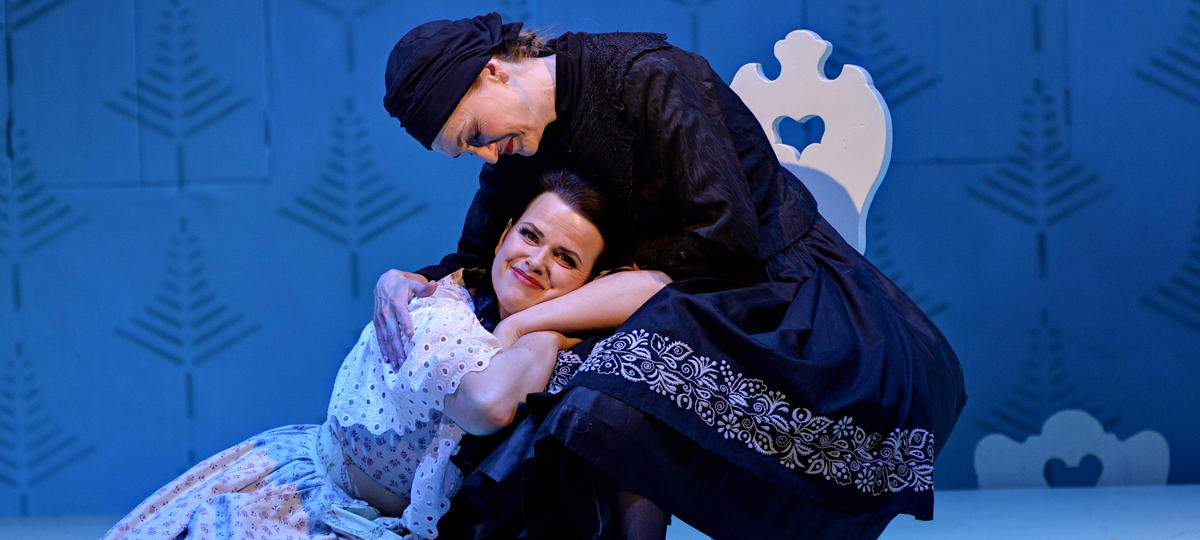 Detail
Realization Team / Cast
Show dates
Photo gallery
THE KISS
Premiere Sep 23, 2021, 6.30 PM - Antonín Dvořák Theatre
Opera in two acts from 1876
Informace
Libretto by Eliška Krásnohorská (1847–1926)
Musical preparation Marek Šedivý
Stage director Jiří Nekvasil

The Kiss is the sixth opera by Bedřich Smetana. This brilliant Czech composer had been already deaf when he composed the piece. The plot is not complicated at all. A young widower Lukáš, who has a kid, is supposed to marry Vendulka, but they both are stubborn. As soon as they meet, they argue about the kiss, which Vendulka does not want to give to Lukáš in honour to the deceased. Lukáš comes under Vendulka's windows with other girls to humiliate her. In the end, he regrets and apologizes to Vendulka. She forgives him and wants to kiss him, but it is Lukáš who turns his head. Finally, they fall into each other's arms. The Kiss is one of Smetana's most popular operas, the NDM has already staged ten times. It was often played during the occupation as its "Czechness" helped to maintain national consciousness. When Czech theatres reopened after the war, the Ostrava ensemble began on 19 May, 1945, right with this particular opera – and The Bartered Bride followed a few weeks later.
The newest production of Smetana's The Kiss directed by Jiří Nekvasil is a part of the Smetana Opera Cycle 2024, an essential NDM project that will culminate in the jubilee year with a ceremonial show where all eight Smetana's operas are to be performed along with a range of accompanying events. Thus, Ostrava should become a unique meeting place for domestic and foreign performers, experts and lovers of Smetana's music in the spring 2024. The audience will also have the opportunity to get acquainted with those operas by Bedřich Smetana that are not commonly seen on stage today.

The production is being prepared for presentation within the complete cycle of Smetana's operas / Smetana's opera cycle in 2024
Performed in the Czech original with English subtitles

Premieres on 12 and 13 June 2021 at the Antonín Dvořák Theatre
Buy tickets
Next show dates
Antonín Dvořák Theatre

Tickets
Antonín Dvořák Theatre

Tickets
Production team
Cast - Season:
Dates
Date
Time
Stage
Type
Detail
Tickets
Jun 8, 2021
10.00 AM
Antonín Dvořák Theatre
Veřejná generální zkouška
show detail
Jun 10, 2021
6.30 PM
Antonín Dvořák Theatre
First preview
show detail
Jun 12, 2021
6.30 PM
Antonín Dvořák Theatre
Second preview
show detail
Jul 1, 2021
7.00 PM
Antonín Dvořák Theatre
Repetition
show detail
Jul 10, 2021
9.00 PM
Litomyšl
Repetition
show detail
Sep 23, 2021
6.30 PM
Antonín Dvořák Theatre
Premiere
show detail
Sep 25, 2021
6.30 PM
Antonín Dvořák Theatre
2nd premiere
show detail
Oct 1, 2021
6.30 PM
Antonín Dvořák Theatre
Repetition
show detail
Oct 21, 2021
6.30 PM
Antonín Dvořák Theatre
Repetition
show detail
Nov 3, 2021
6.30 PM
Antonín Dvořák Theatre
Repetition
show detail
tickets
Dec 3, 2021
6.30 PM
Antonín Dvořák Theatre
Repetition
show detail
tickets
Jan 13, 2022
6.30 PM
Antonín Dvořák Theatre
Repetition
show detail
Feb 2, 2022
6.30 PM
Antonín Dvořák Theatre
Repetition
show detail
Apr 11, 2022
6.30 PM
Antonín Dvořák Theatre
Repetition
show detail
May 17, 2022
6.30 PM
Antonín Dvořák Theatre
Repetition
show detail
Gallery
Rehearsal gallery