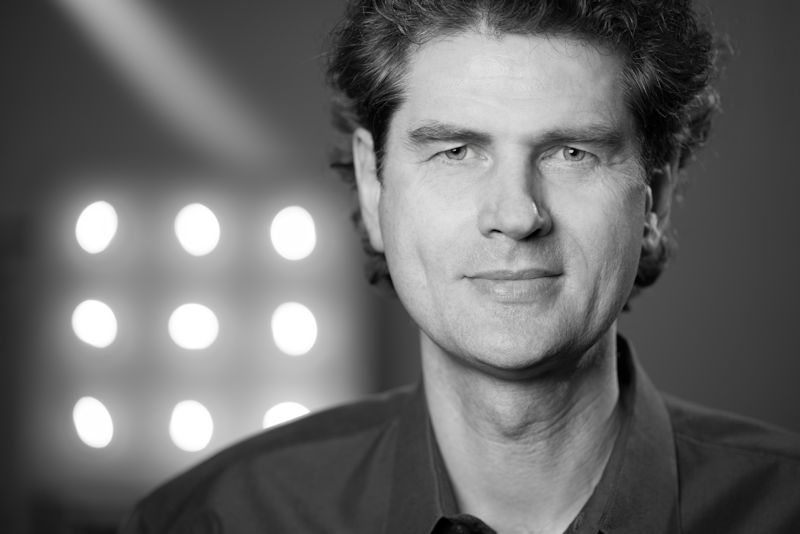 Born: 20.1.1964 in Kyiv
Contact: yurii.galatenko@seznam.cz
Music education
1991-1995 National Academy of Ukraine (field of study: opera and symphonic conducting). He graduated opera conducting by rehearsing and rendition of Mozart's opera The Marriage of Figaro; he graduated symphonic conducting by rehearsing and rendition of Dvořák's symphony No. 9 From The New World and Chopin's Concerto for piano and orchestra No. 2.
1991-1994 Private studies of orchestral conducting by Ilja Musin (Peterburg) 1983-1985 Compulsory military service
1982-1989 National Academy of Ukraine (field of study: choral conducting)
1970-1982 Special music high school of M. Lysenko, Kyiv (field of study: flute, choral conducting)
Professional experience
2000 - now Head choirmaster of National Moravian-Silesian Theatre (NMST)
With his opera choir he participated on production of following NMST opera premieres during 2000-2017: Lady Macbeth of Mtsensk (Shostakovich), Filoktétés (Klusák), Three wishes, The Greek Passion (Martinů), Fire angel (Prokofiev), Excursions of Mr. Brouček, Jenufa, Makropulos, Katya Kabanova (Janáček), Jenovefa (Schumann), Lohengrin (Wagner), The Rake's progress (Stravinsky), Cardillac (Hindemith), Fidelio (Beethoven); operas by Verdi, Puccini, Smetana, Dvořák, Mozart and others
2003-2017 Conductor and choirmaster on a festival of contemporary music Ostrava New Days:
2017: G. Lewis - Last Words, D. Riedstra - / /, R. Ueda - in the sound of a clock, L. Hirsch - Wings,
2015: P. Siek - Z Pism Muzycznych Karola Szymanowskiego, D. Skála – Sanctus
2013: D. Skála - At Home, M. Feldman - Rothko Chapel, M. Wang - Singing bout Love
2011: R. Ueda - Ame potsu potsu, M. Gronowicz - De Psalmo VI, P. Graham - Cantiga del amor final
2009: I. Xenakis - À Hélène, G. Ustwolskaja - Symphony No. 4, Prayer, H. Tsuromoto - light blue, E. Sharp - OVOXXOVO
2007: Richard Glover - is without nothing, James Orsher - trinkets and titivation, Juraj Kojs - There He Stayed, Galina Ustwolskaja - Symphony No. 3 "Jesus Messiah, save us! ", M. Feldman - The Swallows of Salangan; )
2005: F. Chaloupka - Music for 5, M. Feldman - Christian Wolff in Cambridge, Chorus and instruments, P. Zombola - Psalm CXXXVIII, I. Brkljačić - Jinx,
2003, 2005: L. Nono - Cori di Didone,
2015-2017 Conductor on the festival "Presence of the music" in Ostrava.
2017: I. Xenakis - À Hélène, L. Nono – Donde Estas Hermano, I. Stravinskij – Anthem "The Dove Descending Breaks the Air", D. Skála – Láskyplné madrigaly,
L. Berio – Cries of London, B. Richter – Aurorison
2016: P. Zombola – Ave Maria, H. Tsuromoto – Light Blue, G. F. Haas - ...für Viola und sechs Stimmen, O. Messiaen – O sacrum convivium, J. Kojs – There he stayed for voices and everyday objects, K. Penderecki – Song of Cherubim
2015: D. Skála – cantate "All the time", M. Dvořáková – Mám ráda; Kaktusový květ
2014, 2016 Choirmaster of Sezname, otevři se! (M. Smolka), Encounter (M. Wang), No No Miya (R. Komorous) and Oresteia (I. Xenakis) under the festival of contemporary opera "New Opera Days Ostrava" (NODO)
2014-2016 Guest choirmaster of selective mixed choir "Bohemiachor"
2010-2014 Conductor of a choral atelier under an international festival Bohemia Cantat, Liberec
2009 Conductor of the world-premiere Brenpartija (E. Schiffauer) under The International Music Festival "Janáčkův máj"
2008 Conductor of the opera Kolotoč (Václav Trojan) in NMST Ostrava
2008-now Member of jury on choral competitions (national competitions of children and youth choirs of the Czech Republic)
2007 Choirmaster of a cantate Kytice (Martinů) under The Internationl Festival "Smetanova Litomyšl"
2006 Choirmaster of the world-premiere Jako kmeny stromů (E. Schiffauer) under The International Music Festival "Janáčkův máj"
2005-2007 Choirmaster of Mahler's Symphony No. 2, No. 3 and Prokofiev's cantate Alexander Nievsky (in collaboration with Janáček philharmonic orchestra, Ostrava)

2005 Conductor of the opera Dido and Aeneas (H. Purcell) on the University of Ostrava
2005 Conductor of the world-premiere of the opera Aitna (M. Musumeci), NMST Ostrava
2004 Choirmaster on an international festival Janáčkovy Hukvaldy
(L. Janáček - Glagolic Mass)
2003 Choirmaster on an international festival Dvořákova Olomouc (Svatební košile - A. Dvořák)
2003-now Choirmaster of female choir The Ostrava Lady Teachers Choir
2002-2011 Cycle of advent concerts Ostrava: conductor of baroque ensemble

2001 Choirmaster on a Gars Music Festival, Austria (Turandot - Puccini)
2000 Conductor of ballet fantasy based on A. Dvořák's music Dvořák-story
1997-1998 Head conductor of Chamber orchestra of the State Philharmony Rivne (Ukraine)
1995-1997 Guest conductor of Chamber orchestra of the State Philharmony Chernigov (Ukraine)

1989-1991 Singer of theatre choir of the State Opera Theatre Kyiv

1986-1991 Choirmaster of Kyiv Polytechnic Institute Choir
International choral competitions
2017 Musica Eterna Roma, Italy: Golden diploma and winner of the category with The Ostrava Lady Teachers Choir
2016 Riva del Garda, Italy: Golden diploma with Bohemiachor

2016 Isola del sole, Grado, Italy: Golden diploma and winner of the category with The Ostrava Lady Teachers Choir

2015 International choral competition in Jihlava: Golden diploma with The Ostrava Lady Teachers Choir

2014 Varsovia cantat, Poland: Golden diploma and winner of the category with The Ostrava Lady Teachers Choir; special prize for the best conductor
2013 International choral competition of Johannes Brahms in Wernigerode, Germany: Golden diploma and winner of the category with The Ostrava Lady Teachers Choir
2013 Canti Veris Praga, Czech Republic: Golden diploma and winner of the category with The Ostrava Lady Teachers Choir
2012 Prague Christmas: Silver diploma with The Ostrava Lady Teachers Choir
2009 Canti Veris Praga: Golden diploma and winner of the category with The Ostrava Lady Teachers Choir
2007 Praga Cantat: winner of Grand Prix with The Ostrava Lady Teachers Choir
2006 International competition of contemporary choral music, Debrecen, Hungary: Golden diploma and winner of the category with The Ostrava Lady Teachers Choir
2004 International choral competition in Olomouc, Czech Republic: winner of two categories with The Ostrava Lady Teachers Choir
1990 Prize for the best junior choir in a competition of Soviet Union with Kyiv Polytechnic Institute Choir
1989 First prize in the National choral competition of Ukraine with Kyiv Polytechnic Institute Choir
Finalist of II. International competition of conductors, Ukraine Participant on International competition of conductors, Peterburg, Russia
Production team - Season: