OPERA
BETROTHAL IN A DREAM (Verlobung im Traum)
Premiere Feb 13, 2021, 6.30 PM
Antonín Dvořák Theatre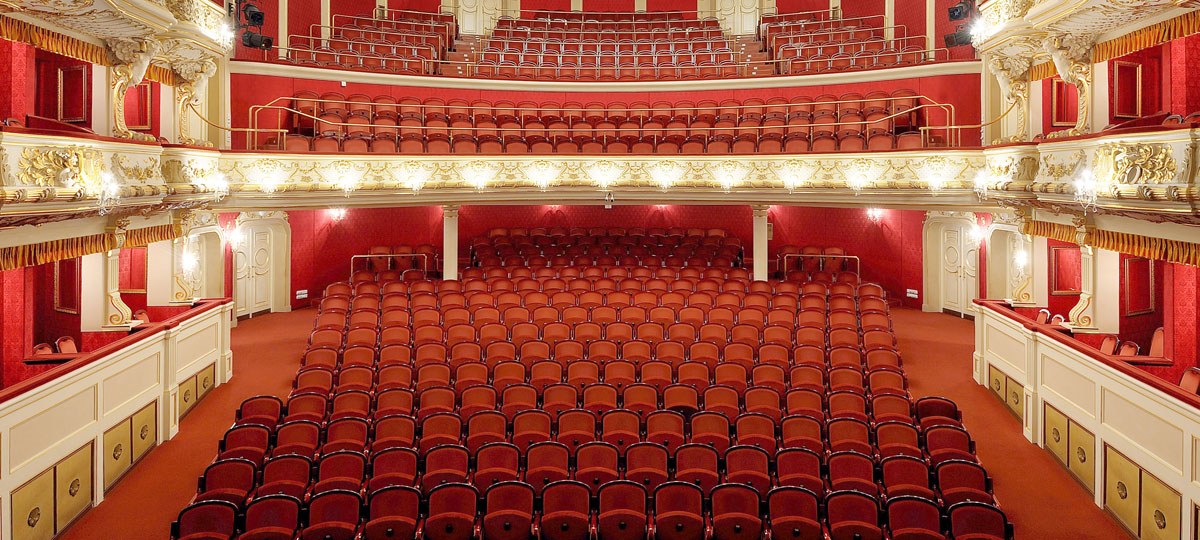 Detail
Realization Team / Cast
Show dates
BETROTHAL IN A DREAM (Verlobung im Traum)
Premiere Feb 13, 2021, 6.30 PM - Antonín Dvořák Theatre
Opera in two acts from 1930
Informace
Libretto by Rudolf Fuchs and Rudolf Thomas
based on novella Uncle's Dream by Fyodor Mikhailovich Dostoevsky (1821–1881)
Musical preparation Marek Šedivý
Stage director Jiří Nekvasil

Our spectators may remember the name of Hans Krása in relation with children's opera Brundibár. The author, whose work was ended in Theresienstadt ghetto just like works of many other composers of the Jewish origin, composed the opera Betrothal in a Dream many years earlier. The plot, inspired by the novella Uncle's Dream written by a classical writer of the nineteenth-century Russian literature, brings us to the setting of a Russian small town in the mid-19th century. In the story, which is similar to Gogol's The Government Inspector, the characters are introduced with comic exaggeration. The plot takes place in a house of Maria Alexandrovna, who tries to marry her daughter Zina well. For this reason, she chose a rich and random traveller called Prince. However, young diplomat Pavel is in love with Zina and moreover, she wants to marry poor and ill teacher Fedor. The plot, in which a dream is an essential part, has a surprising point…
The opera premiered at the New German Theatre in 1933. It came back to the building of today's State Opera in 1994, and it was created by Karel Drgáč in coproduction with the Mannheim National Theatre.
The NDM introduces this staging for the first time. With this piece, we open so-called Terezín cycle, in which works of other composers, who spent their lives in Theresienstadt and were murdered in concentration camps, will be introduced.

Performed in the German original with Czech and English subtitles

Premieres on 13 and 14 February 2021 at the Antonín Dvořák Theatre

Production team
Dates
Date
Time
Stage
Type
Detail
Tickets
Feb 13, 2021
6.30 PM
Antonín Dvořák Theatre
Premiere
show detail
Feb 14, 2021
4.00 PM
Antonín Dvořák Theatre
2nd premiere
show detail
Feb 19, 2021
6.30 PM
Antonín Dvořák Theatre
Repetition
show detail
Mar 9, 2021
6.30 PM
Antonín Dvořák Theatre
Repetition
show detail
Mar 13, 2021
7.00 PM
Státní opera Praha
Repetition
show detail
Mar 14, 2021
7.00 PM
Státní opera Praha
Repetition
show detail
Mar 18, 2021
6.30 PM
Antonín Dvořák Theatre
Repetition
show detail
Apr 6, 2021
6.30 PM
Antonín Dvořák Theatre
Repetition
show detail
Apr 25, 2021
3.00 PM
Antonín Dvořák Theatre
Repetition
show detail
May 7, 2021
6.30 PM
Antonín Dvořák Theatre
Repetition
show detail
Jun 2, 2021
6.30 PM
Antonín Dvořák Theatre
Repetition
show detail