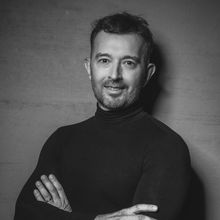 He was born in Kyiv, capital of Ukraine. In 1986 after successful graduation at Kyiv Conservatory (Kyiv Choreographic College) he got contract in Classical Dance Theatre in Kyiv. Under the leadership of ballet ensemble director, Valerij Kovtun, he promoted to demisoloist position. He was part of many abroad performances in France and Spain together with the dance ensemble from Kyiv.
In 1993 he was contracted South Bohemian Theatre in České Budějovice as ballet soloist. In 1995 he moved as soloist to Moravian-Silesian National Theatre. Throughout his career in Ostrava he created bunch of classical, neoclassical and modern roles, e.g. Prince in Swan Lake (choreographer I. Strode), Basil in Don Quijote (chor. R. Avnikjan), Prince in Nutcracker (chor. J. Slavický), Jim Morrison in The Doors (chor. I. Vejsada), Hilarion in Giselle (chor. J. Kyselák).
Since 1996 he teaches classical dance, partner dance and concert practice at Janáček Conservatory in Ostrava.
During his dance practice he collaborated with many domestic and abroad choreographers. For his role of Jim Morrison in The Doors ballet se was nominated ("wider nominations") for the Thálie Prize.
In 2012 he accepted the offer of previous head of ballet Igor Vejsada and started to work also as a pedagogue and repetitor in ballet ensemble of NDM.
In 2016 he ended his active ballet career and got the job as ballet master and repetitor of NDM ballet ensemble under the leadership of current head of ballet Lenka Dřímalová where he works nowadays.
Production team - Season: