BALLET
COPPÉLIA
Premiere Sep 19, 2020, 6.30 PM
Jiří Myron Theatre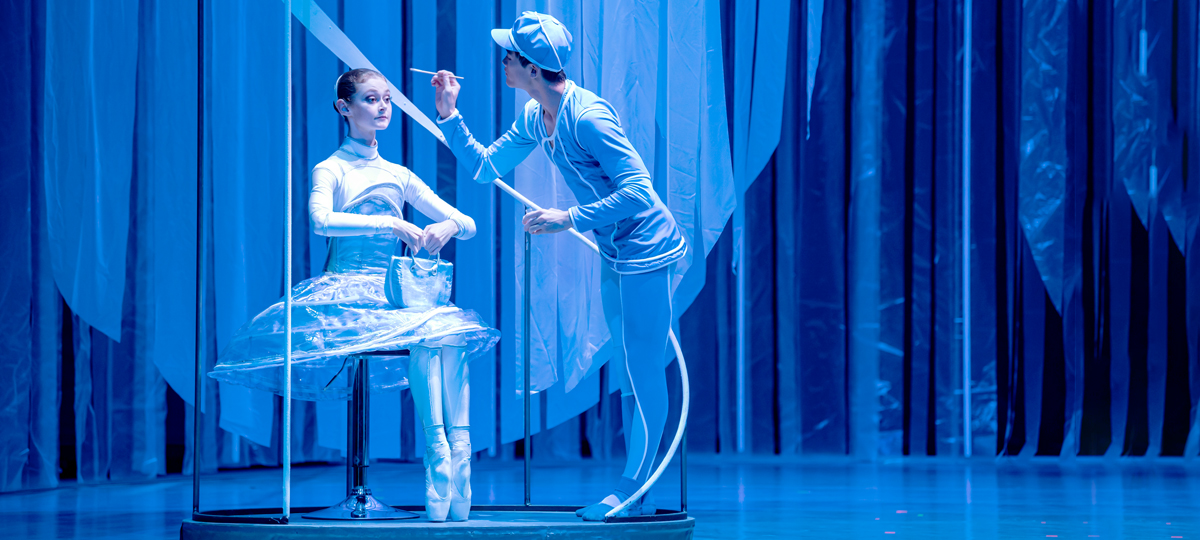 Detail
Realization Team / Cast
Show dates
Photo gallery
Articles, video, audio
COPPÉLIA
Premiere Sep 19, 2020, 6.30 PM - Jiří Myron Theatre
Informace
Choreography and stage direction Giorgio Madia
Musical preparation Adam Sedlicky
Libretto by Giorgio Madia freely based on the story by E. T. A. Hoffman

"In my version Coppelius will be young. I am not turning him into a dark character. He is very passionate about his research and the audience will be able to suffer with him when the girls destroy the treasures of his lab. He represents a mad element of a human personality that is driven by a romantic or sexual obsession or perhaps the lack of a natural sense of love. All in all, he is just looking for companion."

Giorgio Madia, choreographer of the performance

The comic ballet Coppélia is one of the most popular titles in a classical repertoire. It is inspired by the story by E. T. Hoffmann, a German writer, who is now considered to be one of the creators of the horror and fantasy literary genres. The main character of the story, Coppélius, is a mischievous designer of mechanical toys, intruding into the lives of a lovely couple Franz and Swanilda with his seductive mechanical doll Coppélia which came to life.

The Italian choreographer Giorgio Madia has significantly changed the role of the main character. In his version, Coppélius is not simply a negative figure; he makes the audience sympathise with him.

Madia blends neo-classical ballet technique with a visually sophisticated staging that along with his lighting design and an imaginative scene designed by the Italian set and costume designer Domenico Franchi shifts the production toward dramatically scenic visual art and promises a charming and extraordinary spectacle.
| | | | |
| --- | --- | --- | --- |
| Media partners: | | | |
| Partners: | | | |
Buy tickets
Dates
Date
Time
Stage
Type
Detail
Tickets
Sep 18, 2020
Jiří Myron Theatre
Veřejná generální zkouška
show detail
Sep 19, 2020
6.30 PM
Jiří Myron Theatre
Premiere
show detail
Sep 20, 2020
4.00 PM
Jiří Myron Theatre
2nd premiere
show detail
Sep 25, 2020
6.30 PM
Jiří Myron Theatre
Repetition
show detail
Sep 26, 2020
6.30 PM
Jiří Myron Theatre
Repetition
show detail
Feb 26, 2022
6.30 PM
Jiří Myron Theatre
Repetition
show detail
Feb 27, 2022
3.00 PM
Jiří Myron Theatre
Repetition
show detail
Mar 1, 2022
6.30 PM
Jiří Myron Theatre
Repetition
show detail
Mar 3, 2022
6.30 PM
Jiří Myron Theatre
Repetition
show detail
Sep 18, 2022
4.00 PM
Jiří Myron Theatre
Repetition
show detail
Sep 20, 2022
6.30 PM
Jiří Myron Theatre
Repetition
show detail
Jan 17, 2023
6.30 PM
Jiří Myron Theatre
Repetition
show detail
Jan 27, 2024
6.30 PM
Jiří Myron Theatre
Repetition
show detail
Jan 28, 2024
4.00 PM
Jiří Myron Theatre
Repetition
show detail
Feb 10, 2024
6.30 PM
Jiří Myron Theatre
Repetition
show detail
Feb 11, 2024
4.00 PM
Jiří Myron Theatre
Derniere
show detail
Rehearsal gallery
Články
Video
Audio
Související