BALLET
THE NUTCRACKER – A CHRISTMAS CAROL
Premiere Nov 10, 2022, 6.30 PM
Antonín Dvořák Theatre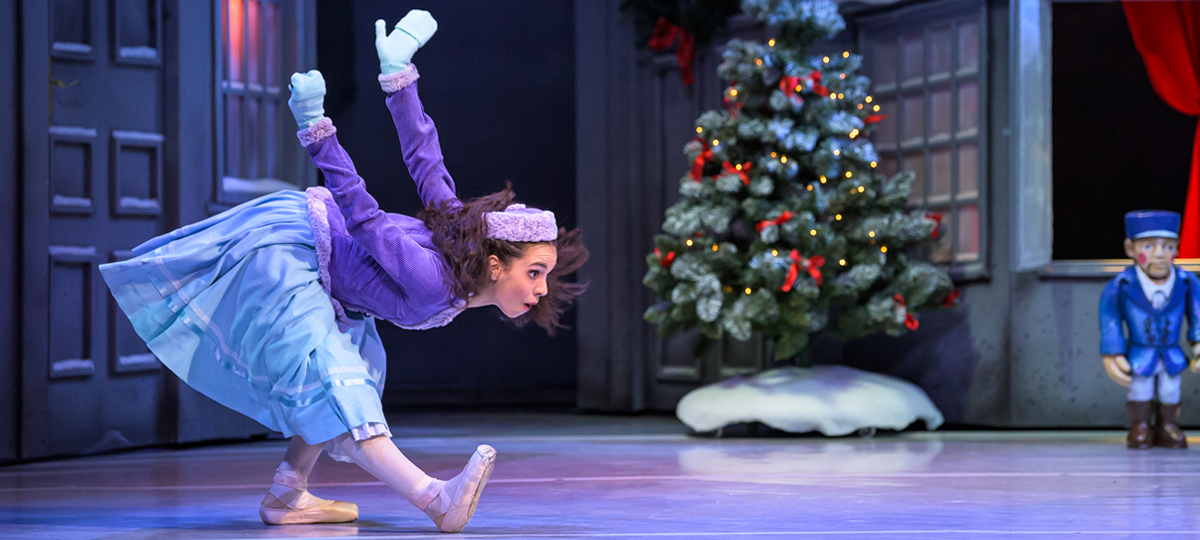 Detail
Realization Team / Cast
Show dates
Photo gallery
Articles, video, audio
THE NUTCRACKER – A CHRISTMAS CAROL
Premiere Nov 10, 2022, 6.30 PM - Antonín Dvořák Theatre
Youri Vàmos' ballet based on Charles Dickens and E. T. A. Hoffmann's fairy tale
Informace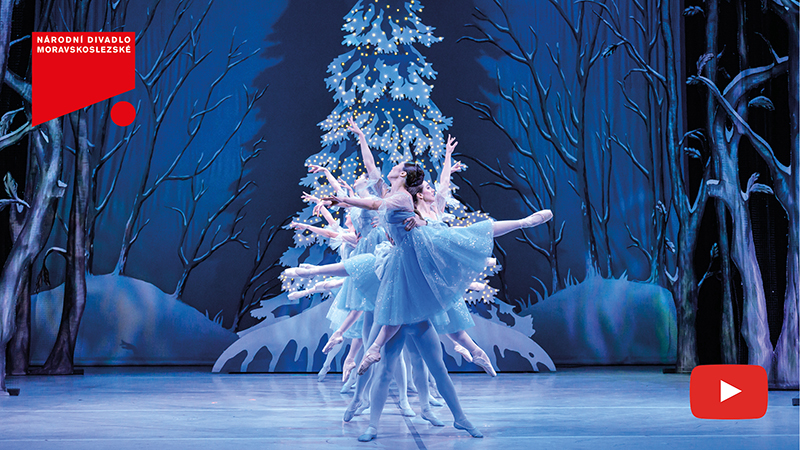 Choreographer Youri Vàmos

An interpretation of the ballet classic set to music by Pyotr Ilyich Tchaikovsky. A dance evening full of colours, Christmas sparkle, and magic on stage for people of all ages. Set in 19th-century London, the story is about the magical power of Christmas that transforms people's characters.
Hungarian choreographer and former artistic director of the Deutsche Oper am Rhein Youri Vàmos has blended The Nutcracker and the Mouse King by E. T. A. Hoffmann with Charles Dickens' A Christmas Carol. Clara and the Nutcracker Prince thus encounter an adversary, the old boorish usurer Scrooge, a heartless eccentric who hates and despises Christmas. Scrooge goes so far as fires his clerk Bob Cratchit on Christmas Day. Now Bob cannot even afford to give his young daughter Clara the coveted Nutcracker doll. However, the same night Scrooge is haunted by terrible nightmares, and when he wakes up the next morning, his character has changed...

| | | | |
| --- | --- | --- | --- |
| Media partners: | | | |
| Partners: | | | |
Buy tickets
Production team
Cast - Season:
Dates
Date
Time
Stage
Type
Detail
Tickets
Nov 8, 2022
Antonín Dvořák Theatre
Veřejná generální zkouška
show detail
Nov 9, 2022
Antonín Dvořák Theatre
Veřejná generální zkouška
show detail
Nov 10, 2022
6.30 PM
Antonín Dvořák Theatre
Premiere
show detail
Nov 12, 2022
6.30 PM
Antonín Dvořák Theatre
2nd premiere
show detail
Nov 13, 2022
3.00 PM
Antonín Dvořák Theatre
Repetition
show detail
Nov 17, 2022
4.00 PM
Antonín Dvořák Theatre
Repetition
show detail
Nov 26, 2022
6.30 PM
Antonín Dvořák Theatre
Repetition
show detail
Dec 3, 2022
6.30 PM
Antonín Dvořák Theatre
Repetition
show detail
Dec 4, 2022
4.00 PM
Antonín Dvořák Theatre
Repetition
show detail
Dec 18, 2022
4.00 PM
Antonín Dvořák Theatre
Repetition
show detail
Dec 22, 2022
6.30 PM
Antonín Dvořák Theatre
Repetition
show detail
Dec 25, 2022
4.00 PM
Antonín Dvořák Theatre
Repetition
show detail
Dec 27, 2022
6.30 PM
Antonín Dvořák Theatre
Repetition
show detail
Dec 28, 2022
6.30 PM
Antonín Dvořák Theatre
Repetition
show detail
Jan 7, 2023
6.30 PM
Antonín Dvořák Theatre
Repetition
show detail
Jan 8, 2023
4.00 PM
Antonín Dvořák Theatre
Repetition
show detail
Oct 28, 2023
4.00 PM
Antonín Dvořák Theatre
Repetition
show detail
Oct 29, 2023
4.00 PM
Antonín Dvořák Theatre
Repetition
show detail
Dec 3, 2023
4.00 PM
Antonín Dvořák Theatre
Repetition
show detail
Dec 6, 2023
6.30 PM
Antonín Dvořák Theatre
Repetition
show detail
Dec 20, 2023
6.30 PM
Antonín Dvořák Theatre
Repetition
show detail
Dec 21, 2023
6.30 PM
Antonín Dvořák Theatre
Repetition
show detail
Dec 22, 2023
6.30 PM
Antonín Dvořák Theatre
Repetition
show detail
Dec 25, 2023
4.00 PM
Antonín Dvořák Theatre
Repetition
show detail
Dec 30, 2023
4.00 PM
Antonín Dvořák Theatre
Repetition
show detail
Dec 31, 2023
4.00 PM
Antonín Dvořák Theatre
Repetition
show detail
Jan 5, 2024
6.30 PM
Antonín Dvořák Theatre
Repetition
show detail
Jan 6, 2024
6.30 PM
Antonín Dvořák Theatre
Repetition
show detail
Jan 7, 2024
4.00 PM
Antonín Dvořák Theatre
Repetition
show detail
Jan 11, 2024
6.30 PM
Antonín Dvořák Theatre
Repetition
show detail
Jan 12, 2024
6.30 PM
Antonín Dvořák Theatre
Repetition
show detail
Jan 13, 2024
6.30 PM
Antonín Dvořák Theatre
Repetition
show detail
Gallery
Články
Video
Audio
Související