MUSICAL
JONÁŠ AND TINGL-TANGL
Repetition Sep 20, 2023, 7.00 PM
Divadlo "12"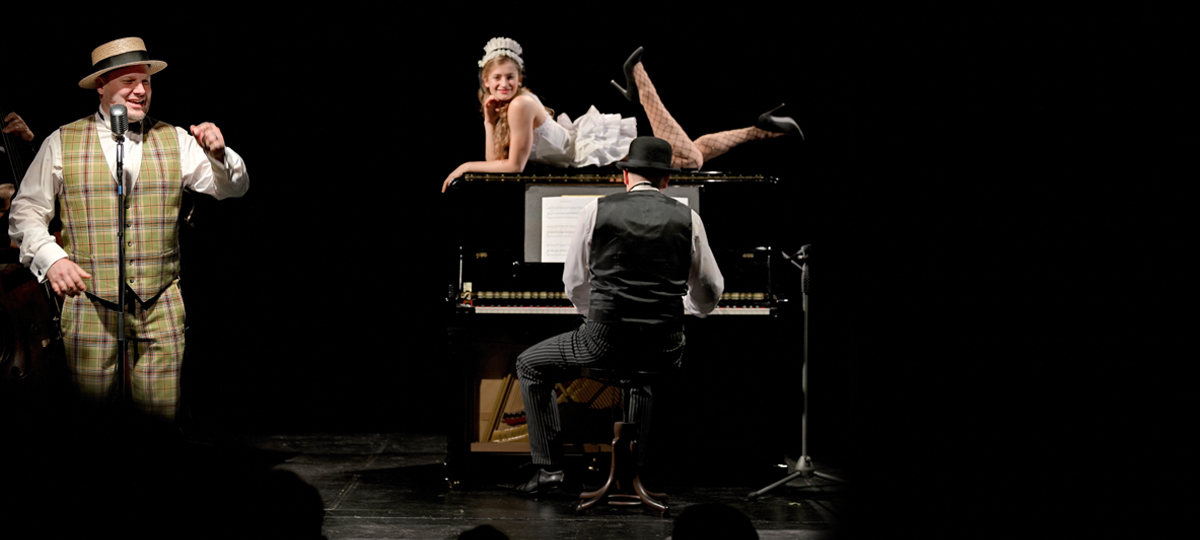 Detail
Realization Team / Cast
Show dates
Photo gallery
Articles, video, audio
Repetition Sep 20, 2023, 7.00 PM - Divadlo "12"
Informace
Stage director Jiří Nekvasil
Musical preparation Jakub Žídek

The musical cabaret Jonáš and Tingl-Tangl premiered in the summer of 1962 and was created out of necessity. After the main stars of the then Semafor theatre left for solo careers (Eva Pilarová, Waldemar Matuška), it was required to complete the theatre's repertoire with chamber productions. The opportunity to appear on the stage was given to composer Jiří Šlitr, who had mostly been "hiding" behind the piano alongside Jiří Suchý until then. This is how a legendary clown duo was created and it will be Tomáš Savka and Jakub Žídek who will portray their charm, snappy dialogues, original humour, and unforgettable, now obsolete, melodies on the stage of the chamber Theatre "12".
| | | | |
| --- | --- | --- | --- |
| Media partners: | | | |
| Partners: | | | |
Buy tickets
Production team
Cast at date: Sep 20, 2023
Dates
Date
Time
Stage
Type
Detail
Tickets
Dec 18, 2022
7.00 PM
Divadlo "12"
Premiere
show detail
Dec 21, 2022
7.00 PM
Divadlo "12"
Repetition
show detail
Jan 4, 2023
7.00 PM
Divadlo "12"
Repetition
show detail
Jan 8, 2023
4.00 PM
Divadlo "12"
Repetition
show detail
Jan 10, 2023
7.00 PM
Divadlo "12"
Repetition
show detail
Jan 25, 2023
7.00 PM
Divadlo "12"
Repetition
show detail
Jan 31, 2023
7.00 PM
Divadlo "12"
Repetition
show detail
Feb 3, 2023
7.00 PM
Divadlo "12"
Repetition
show detail
Feb 23, 2023
7.00 PM
Divadlo "12"
Repetition
show detail
Feb 26, 2023
7.00 PM
Divadlo "12"
Repetition
show detail
Mar 7, 2023
7.00 PM
Divadlo "12"
Repetition
show detail
Mar 8, 2023
7.00 PM
Divadlo "12"
Repetition
show detail
Mar 13, 2023
7.00 PM
Divadlo "12"
Repetition
show detail
Mar 14, 2023
7.00 PM
Divadlo "12"
Repetition
show detail
Mar 25, 2023
7.00 PM
Divadlo "12"
Repetition
show detail
Apr 1, 2023
7.00 PM
Divadlo "12"
Repetition
show detail
Apr 21, 2023
7.00 PM
Divadlo "12"
Repetition
show detail
Apr 28, 2023
7.00 PM
Divadlo "12"
Repetition
show detail
May 9, 2023
7.00 PM
Národní dům Frýdek-Místek
Repetition
show detail
May 11, 2023
7.00 PM
Divadlo "12"
Repetition
show detail
May 23, 2023
7.00 PM
Divadlo "12"
Repetition
show detail
May 25, 2023
7.00 PM
Divadlo "12"
Repetition
show detail
Jun 1, 2023
7.00 PM
Divadlo "12"
Repetition
show detail
Jun 8, 2023
7.00 PM
Divadlo "12"
Repetition
show detail
Jun 9, 2023
7.00 PM
Divadlo "12"
Repetition
show detail
Jun 14, 2023
7.00 PM
Divadlo "12"
Repetition
show detail
Jun 18, 2023
7.00 PM
Divadlo SEMAFOR
Repetition
show detail
Sep 17, 2023
7.00 PM
Divadlo "12"
Repetition
show detail
Sep 19, 2023
7.00 PM
Divadlo "12"
Repetition
show detail
Sep 20, 2023
7.00 PM
Divadlo "12"
Repetition
show detail
Sep 22, 2023
7.00 PM
Divadlo "12"
Repetition
show detail
Sep 23, 2023
7.00 PM
Divadlo "12"
Repetition
show detail
Oct 7, 2023
7.00 PM
Spišské divadlo
Repetition
show detail
Oct 12, 2023
7.00 PM
Divadlo "12"
Repetition
show detail
Oct 20, 2023
7.00 PM
Divadlo "12"
Repetition
show detail
Nov 1, 2023
7.00 PM
Divadlo "12"
Repetition
show detail
Nov 2, 2023
7.00 PM
Divadlo "12"
Repetition
show detail
Nov 11, 2023
7.00 PM
Divadlo "12"
Repetition
show detail
Dec 13, 2023
7.00 PM
Beskydské divadlo, Nový Jičín
Repetition
show detail
Dec 19, 2023
7.00 PM
Divadlo "12"
Repetition
show detail
Jan 13, 2024
7.00 PM
Divadlo "12"
Repetition
show detail
Jan 26, 2024
7.00 PM
Divadlo "12"
Repetition
show detail
Jan 27, 2024
7.00 PM
Divadlo "12"
Repetition
show detail
Feb 7, 2024
7.00 PM
Divadlo "12"
Repetition
show detail
Feb 8, 2024
7.00 PM
Divadlo "12"
Repetition
show detail
Feb 20, 2024
7.00 PM
Divadlo "12"
Repetition
show detail
Mar 7, 2024
7.00 PM
Divadlo "12"
Repetition
show detail
Mar 26, 2024
7.00 PM
Divadlo "12"
Repetition
show detail
Apr 12, 2024
7.00 PM
Divadlo "12"
Repetition
show detail
Apr 13, 2024
7.00 PM
Divadlo "12"
Repetition
show detail
Apr 30, 2024
7.00 PM
Prostějov City Theatre
Repetition
show detail
May 2, 2024
7.00 PM
Divadlo "12"
Repetition
show detail
May 11, 2024
7.00 PM
Divadlo "12"
Repetition
show detail
May 12, 2024
7.00 PM
Divadlo "12"
Repetition
show detail
Jun 22, 2024
5.00 PM
Litomyšl
Repetition
show detail
Jun 26, 2024
7.00 PM
Divadlo "12"
Repetition
show detail
Jun 27, 2024
7.00 PM
Divadlo "12"
Repetition
show detail
Gallery
Rehearsal gallery
Články
Video
Audio
Související