DRAMA
EIGHT WOMEN
Premiere Jan 16, 2020, 6.30 PM
Antonín Dvořák Theatre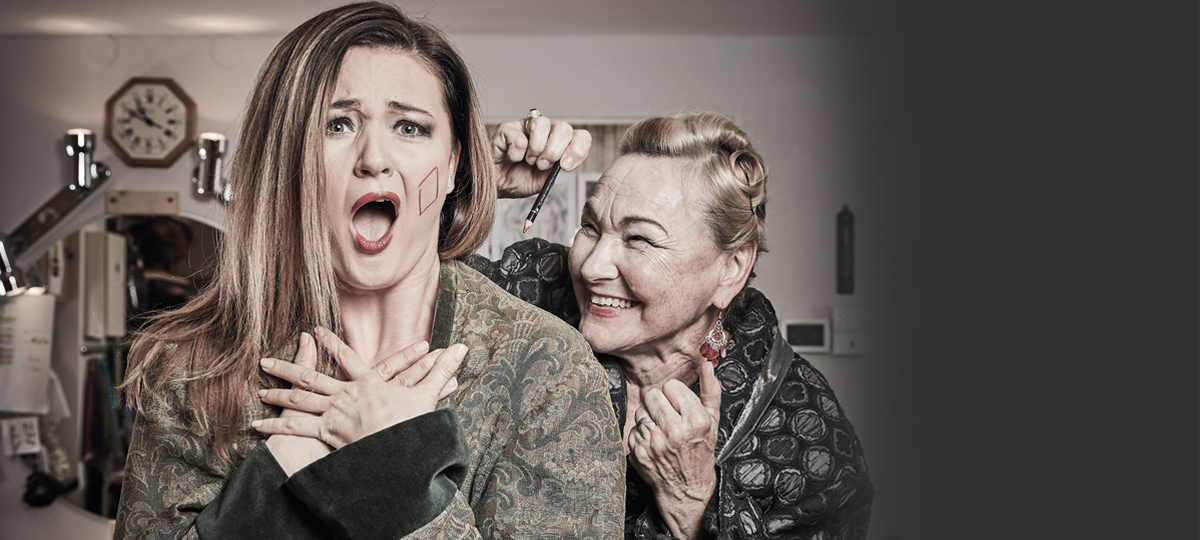 Detail
Realization Team / Cast
Show dates
Photo gallery
EIGHT WOMEN
Premiere Jan 16, 2020, 6.30 PM - Antonín Dvořák Theatre
One of us is lying and she is the killer! The other ones are lying too… We should be more honest with each other!
Informace
Translation Milena a Josef Tomaskovi

"We are probably sleeping with the same men! And as you are lying to implicate me, I'm going to tell you why you gave me those 100 francs. The moment I stepped into the bedroom of our landlord, you had just told him: "If you don't give me the money, I'll kill you!"

The plot takes place at a snowy farmhouse that is momentarily cut off from the outside world. In the morning, the only man in the house is found dead in his bedroom, stabbed in the back. There are eight women in the house each in a different relationship with the deceased man. Who killed him? Who is hiding something? Was it one of them? While looking for answers they all show their true faces and find out more than they need to know. So who is ultimately responsible? Is it the stunning wife, the sensitive sister, the sister-in-law, the devoted housekeeper, the mother-in-law, one of the two cute daughters or the new maid? How is the investigation going to end when eight amateurs decide to take matters into their own hands?

A bitter detective comedy with a plot full of tension, witty irony, and acting opportunities. That's Eight Women by Robert Thomas – a master of subtle and sophisticated plot twists.
Buy tickets
Production team
Cast - Season:
Dates
Date
Time
Stage
Type
Detail
Tickets
Jan 16, 2020
6.30 PM
Antonín Dvořák Theatre
Premiere
show detail
Jan 18, 2020
6.30 PM
Antonín Dvořák Theatre
1st repetition
show detail
Jan 22, 2020
6.30 PM
Antonín Dvořák Theatre
Repetition
show detail
Jan 28, 2020
6.30 PM
Antonín Dvořák Theatre
Repetition
show detail
Feb 15, 2020
6.30 PM
Antonín Dvořák Theatre
Repetition
show detail
Feb 21, 2020
6.30 PM
Antonín Dvořák Theatre
Repetition
show detail
Feb 26, 2020
6.30 PM
Antonín Dvořák Theatre
Repetition
show detail
Oct 3, 2020
6.30 PM
Antonín Dvořák Theatre
Repetition
show detail
Sep 29, 2021
6.30 PM
Antonín Dvořák Theatre
Repetition
show detail
Oct 5, 2021
6.30 PM
Antonín Dvořák Theatre
Repetition
show detail
Oct 29, 2021
6.30 PM
Antonín Dvořák Theatre
Repetition
show detail
Dec 25, 2021
4.00 PM
Antonín Dvořák Theatre
Repetition
show detail
Jan 19, 2022
6.30 PM
Antonín Dvořák Theatre
Repetition
show detail
tickets
Feb 10, 2022
6.30 PM
Antonín Dvořák Theatre
Repetition
show detail
tickets
Feb 24, 2022
6.30 PM
Antonín Dvořák Theatre
Repetition
show detail
tickets
Mar 10, 2022
6.30 PM
Antonín Dvořák Theatre
Repetition
show detail
tickets
Mar 31, 2022
6.30 PM
Antonín Dvořák Theatre
Repetition
show detail
tickets
May 20, 2022
6.30 PM
Antonín Dvořák Theatre
Repetition
show detail
Gallery