OPERA
JULIETTE, OR THE KEY OF DREAMS
Repetition Jun 5, 2019, 6.30 PM
Antonín Dvořák Theatre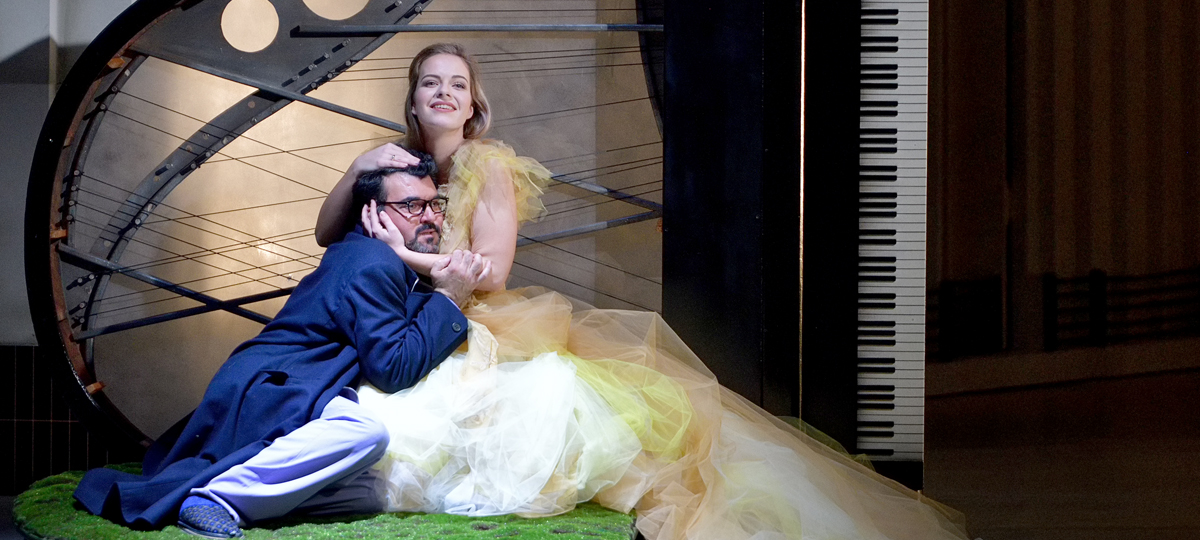 Detail
Realization Team / Cast
Show dates
Photo gallery
Repetition Jun 5, 2019, 6.30 PM - Antonín Dvořák Theatre
Lyric Opera on three acts from 1938
Informace
Bohuslav Martinů (1890–1959)

Beautifully poetic, lyrical and fantastically surrealistic, that's how we could describe the most famous opera of Bohuslav Martinů which was composed during his stay in Paris. Everything in this opera takes place on the edge of reality and illusion within the fragile Michel's dream about his love - Juliette, femme fatale that everyone longs for and nobody gets her. The peculiar town, whose inhabitants lost their memory, gradually falls into the absurd haze of A Midsummer Night's Dream. Michel's memory of the girl he once met becomes a desperate struggle to lean on something stable, to lean on concreteness and consciousness that is subdued every moment in his dreams. Everything is so strange, improbable... Memories for sale! Live your dreams in the opera!
Performed in Czech with Czech and English subtitles.
Buy tickets
Production team
Cast at date: Jun 5, 2019
Dates
Date
Time
Stage
Type
Detail
Tickets
Apr 9, 2019
10.00 AM
Antonín Dvořák Theatre
Veřejná generální zkouška
show detail
Apr 11, 2019
6.30 PM
Antonín Dvořák Theatre
Premiere
show detail
Apr 13, 2019
6.30 PM
Antonín Dvořák Theatre
2nd premiere
show detail
Apr 18, 2019
6.30 PM
Antonín Dvořák Theatre
Repetition
show detail
Apr 23, 2019
6.30 PM
Antonín Dvořák Theatre
Repetition
show detail
May 7, 2019
6.30 PM
Antonín Dvořák Theatre
Repetition
show detail
May 15, 2019
6.30 PM
Antonín Dvořák Theatre
Repetition
show detail
May 21, 2019
6.30 PM
Antonín Dvořák Theatre
Repetition
show detail
Jun 5, 2019
6.30 PM
Antonín Dvořák Theatre
Repetition
show detail
Sep 21, 2019
6.30 PM
Antonín Dvořák Theatre
Repetition
show detail
tickets
Oct 4, 2019
6.30 PM
Antonín Dvořák Theatre
Repetition
show detail
tickets
Nov 7, 2019
6.30 PM
Antonín Dvořák Theatre
Repetition
show detail
tickets
Dec 20, 2019
6.30 PM
Antonín Dvořák Theatre
Repetition
show detail
Jan 19, 2020
3.00 PM
Antonín Dvořák Theatre
Repetition
show detail
Gallery
Rehearsal gallery