OPERA
RUSALKA
Repetition Jun 9, 2023, 6.30 PM
Antonín Dvořák Theatre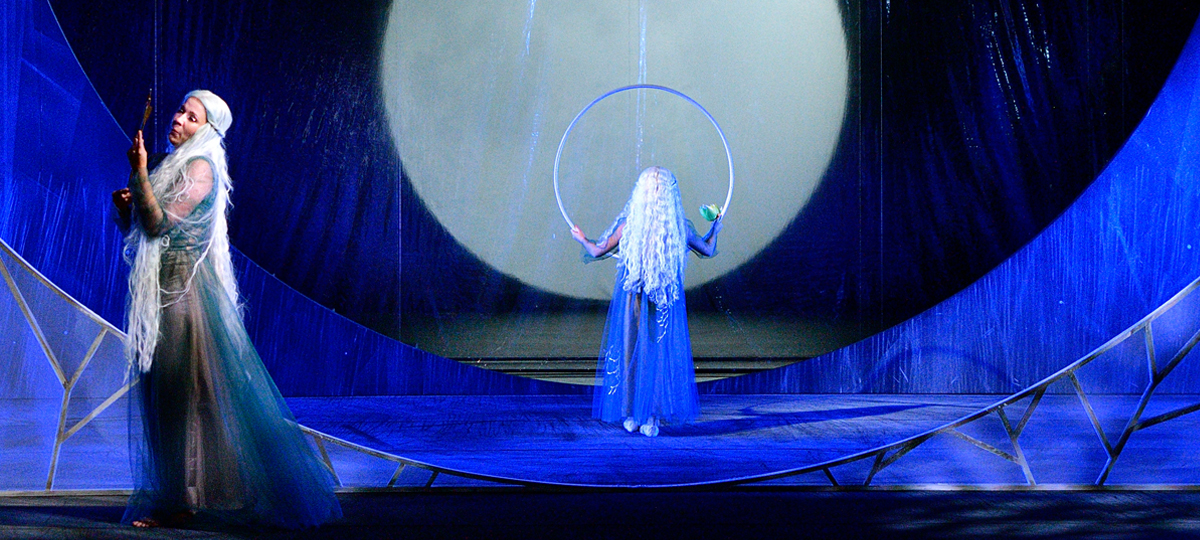 Detail
Realization Team / Cast
Show dates
Photo gallery
RUSALKA
- Repetition Jun 9, 2023
Repetition Jun 9, 2023, 6.30 PM - Antonín Dvořák Theatre
Lyric fairy tale in three acts from 1901
Informace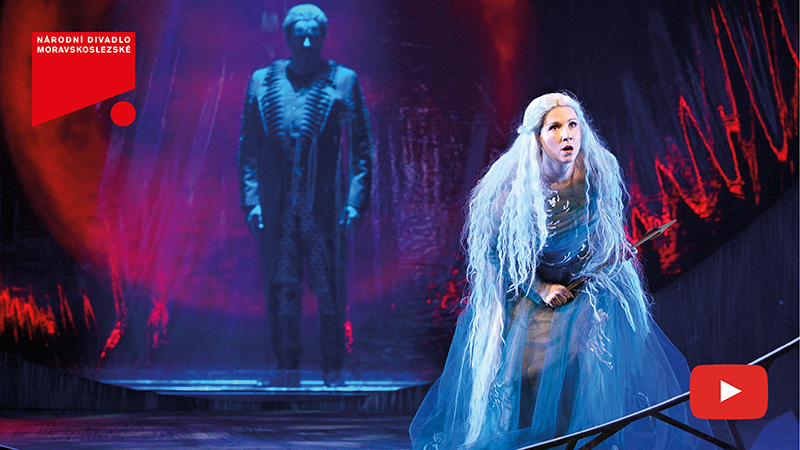 Libretto by Jaroslav Kvapil (1868–1950)

"For your love, for that beauty of yours,

for your inconstant human passion,

for everything by which my fate is cursed,

human soul, God have mercy on you!"

The world's most famous Czech opera, the masterpiece of Antonin Dvorak, has been enchanting audiences since its world premiere in 1901. The composer had a brilliant poetic libretto by Jaroslav Kvapil, inspired by Andersen's Little Mermaid, and Ballads by Karel Jaromir Erben with clear elements of symbolism and decadence in the late 19th century. The opera tells the fairy tale story of the water nymph Rusalka, who leaves the safety of her lake home and becomes a human for the love of the Prince. The emotionally unstable Prince betrays her for his momentary enchantment by another woman and she is then rejected by the human world. Betrayed Rusalka becomes a deadly element – a firefly – and among others even the Prince dies in her arms. The composer tells the story in a colourful and melodic way, the music is filled with passion; it is a expressive image of nature and emotions. Dvorak's opera ends in a breath-taking catharsis – Rusalka forgives the Prince who is dying in her arms. The composer thus created one of the strongest and incomprehensibly purifying, elusive and beautiful musical endings in both Czech and international opera.

Performed in the Czech original with Czech and English subtitles.
Media partners:
Partners:
In cooperation with:
Buy tickets
Production team
Cast at date: Jun 9, 2023
Dates
Date
Time
Stage
Type
Detail
Tickets
Oct 17, 2019
6.30 PM
Antonín Dvořák Theatre
Premiere
show detail
Oct 19, 2019
6.30 PM
Antonín Dvořák Theatre
2nd premiere
show detail
Oct 25, 2019
6.30 PM
Antonín Dvořák Theatre
Repetition
show detail
Nov 6, 2019
6.30 PM
Antonín Dvořák Theatre
Repetition
show detail
Nov 12, 2019
6.30 PM
Antonín Dvořák Theatre
Repetition
show detail
Nov 15, 2019
6.30 PM
Antonín Dvořák Theatre
Repetition
show detail
Dec 3, 2019
6.30 PM
Antonín Dvořák Theatre
Repetition
show detail
Dec 26, 2019
4.00 PM
Antonín Dvořák Theatre
Repetition
show detail
Jan 11, 2020
6.30 PM
Antonín Dvořák Theatre
Repetition
show detail
Jan 15, 2020
6.30 PM
Antonín Dvořák Theatre
Repetition
show detail
Jan 26, 2020
4.00 PM
Antonín Dvořák Theatre
Repetition
show detail
Feb 6, 2020
6.30 PM
Antonín Dvořák Theatre
Repetition
show detail
Feb 9, 2020
3.00 PM
Antonín Dvořák Theatre
Repetition
show detail
Feb 12, 2020
6.30 PM
Antonín Dvořák Theatre
Repetition
show detail
Feb 29, 2020
6.30 PM
Antonín Dvořák Theatre
Repetition
show detail
Mar 7, 2020
6.30 PM
Antonín Dvořák Theatre
Repetition
show detail
Jul 8, 2021
9.00 PM
Litomyšl
Repetition
show detail
Jul 9, 2021
9.00 PM
Litomyšl
Repetition
show detail
Aug 29, 2021
4.00 PM
Antonín Dvořák Theatre
Repetition
show detail
Sep 9, 2021
6.30 PM
Antonín Dvořák Theatre
Repetition
show detail
Nov 17, 2021
4.00 PM
Antonín Dvořák Theatre
Repetition
show detail
Dec 12, 2021
4.00 PM
Antonín Dvořák Theatre
Repetition
show detail
Dec 26, 2021
4.00 PM
Antonín Dvořák Theatre
Repetition
show detail
Jan 23, 2022
4.00 PM
Antonín Dvořák Theatre
Repetition
show detail
Mar 6, 2022
4.00 PM
Antonín Dvořák Theatre
Repetition
show detail
Apr 1, 2022
6.30 PM
Antonín Dvořák Theatre
Repetition
show detail
May 5, 2022
6.30 PM
Antonín Dvořák Theatre
Repetition
show detail
Oct 23, 2022
4.00 PM
Antonín Dvořák Theatre
Repetition
show detail
Oct 28, 2022
4.00 PM
Antonín Dvořák Theatre
Repetition
show detail
Jan 21, 2023
6.30 PM
Antonín Dvořák Theatre
Repetition
show detail
Mar 19, 2023
4.00 PM
Antonín Dvořák Theatre
Repetition
show detail
Jun 9, 2023
6.30 PM
Antonín Dvořák Theatre
Repetition
show detail
Gallery
Související