DRAMA
A YEAR IN A VILLAGE
Premiere Oct 25, 2018, 6.30 PM
Jiří Myron Theatre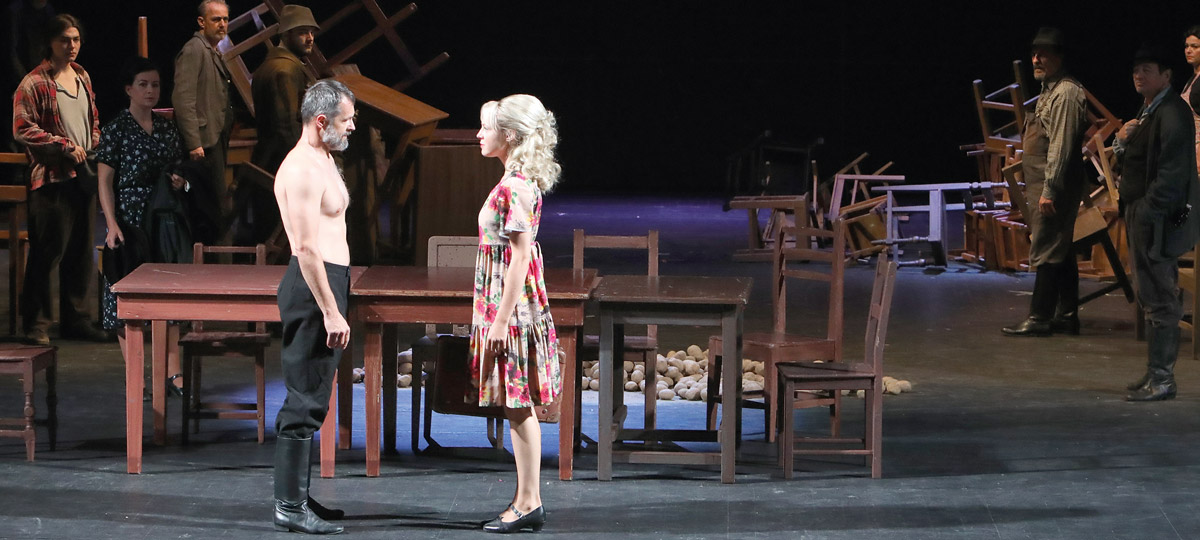 Detail
Realization Team / Cast
Show dates
Photo gallery
A YEAR IN A VILLAGE
Premiere Oct 25, 2018, 6.30 PM - Jiří Myron Theatre
Informace
Alois (1861–1925) and Vilém (1863–1912) Mrštíkové

"It does not seem to be different – one would weep for the village as Jesus did for Jerusalem."

The village, it's us. It is our family, our land, our human race. Fate gives us our parents, parents are given their neighbors. We cannot influence the relationships we are born into by ourselves. And when the whole generations walk the same direction, the last – our generation, will not do it in a different way…So this is how we live in the village and nothing else remains. The theatrical adaptation of a major novel of Czech realism. The drama company of the National Moravian-Silesian Theatre introduces this multilayered chronicle of one Moravian village for the first time.
Buy tickets
Production team
Cast - Season:
Dates
Date
Time
Stage
Type
Detail
Tickets
Oct 25, 2018
6.30 PM
Jiří Myron Theatre
Premiere
show detail
Oct 27, 2018
6.30 PM
Jiří Myron Theatre
1st repetition
show detail
Nov 14, 2018
6.30 PM
Jiří Myron Theatre
Repetition
show detail
Dec 1, 2018
6.30 PM
Jiří Myron Theatre
Repetition
show detail
Dec 7, 2018
6.30 PM
Jiří Myron Theatre
Repetition
show detail
Dec 18, 2018
6.30 PM
Jiří Myron Theatre
Repetition
show detail
Jan 6, 2019
3.00 PM
Jiří Myron Theatre
Repetition
show detail
Jan 31, 2019
6.30 PM
Jiří Myron Theatre
Repetition
show detail
Feb 15, 2019
6.30 PM
Jiří Myron Theatre
Repetition
show detail
Feb 19, 2019
6.30 PM
Jiří Myron Theatre
Repetition
show detail
Feb 25, 2019
6.30 PM
Jiří Myron Theatre
Repetition
show detail
Mar 21, 2019
6.30 PM
Jiří Myron Theatre
Repetition
show detail
Apr 10, 2019
6.30 PM
Jiří Myron Theatre
Repetition
show detail
May 3, 2019
6.30 PM
Jiří Myron Theatre
Derniere
show detail
tickets
Rehearsal gallery