JOSEF NOVÁK-WAJDA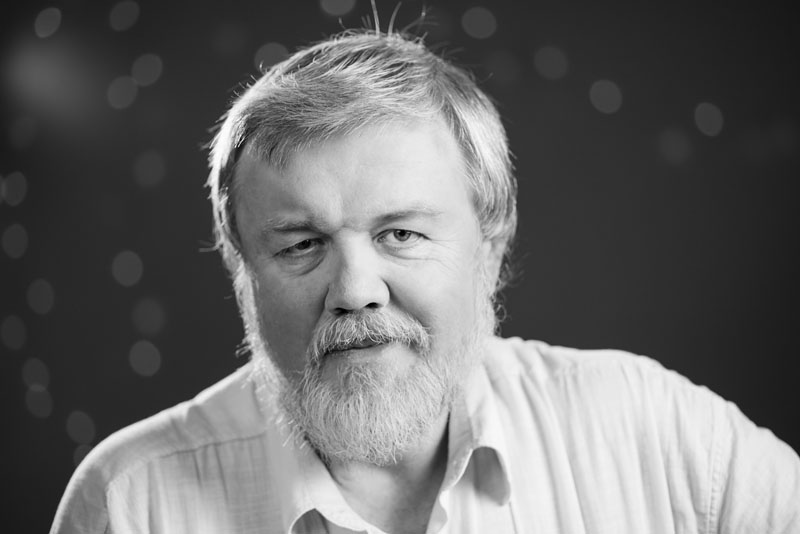 He was born in 1953 in historical Litomyšl and he spent there his childhood and years of schooling. After graduation at the Department of acting at the Janáček Academy of Music and Performing Arts in Brno, he performed at theatres in Šumperk and Olomouc. Then he stayed in the drama company of the State Theatre Ostrava and in the Petr Bezruč Theatre Company. Finally, he returned to the State Theatre, the current National Moravian-Sileasian Theatre, to the operetta company.
In every theatre company, he has played a wide range of roles: in Šumperk he introduced himself as Miller in Jirásek's The Lantern and as Porthos in The Three Musketeers Twenty Years After, in Olomouc as Lennie in Steinbeck's Of Mice and Man and as Porthos again, as McMurphy in a dramatization of Ken Kesey's novel One Flew Over the Cuckoo's Nest, as Vavřena in the musical A Philosophical History, as the Fool in King Lear, as Scrivener in The Duchess of Waldstein' Armies and in many other title and supporting roles.
He started his engagement in Ostrava by playing Pierre Bezuchov in Tolstoy's War and Peace and Mitchell in A Streetcar Named Desire. He has also created the role of Horatio in Hamlet and roles in Jiří Suchý's musicals Johannes, doctor Faust and A Rail Switch, he has also played the role of one of the sons in Death of a Salesman and in many other productions of the repertoire at that time. In Ostrava, he started to cooperate both with radio and with the Czech Television and he has starred in the series called Lawyer ex offo. His work for television reached its peak in television fairy tales which were directed by deceased Zdeněk Havlíček – "About a king, astronomer and three musicians" and "Devil, stick to your knitting".
For fifteen years, he has taught acting at the Janáček conservatory and Grammar School in Ostrava. There he has directed several plays and operas from which he appreciates the most: the musical Nurses, dramas A Reherseal by Arnošt Goldflam, Igor Bauerfsima's Norway Today and operas Cage is the Thing and Comedy on the Bridge.
In the current engagement in operetta company, he has enjoyed the role of water goblin Čochtan in Finian's Rainbow and also his last big role – Saturnin Brambor in Podskalák. However, he likes even the small parts because there are no small parts and to play in front of the full theatre is balm to the soul.
Production team - Season: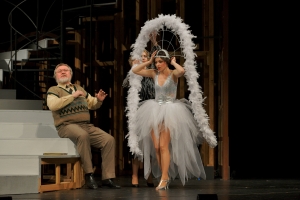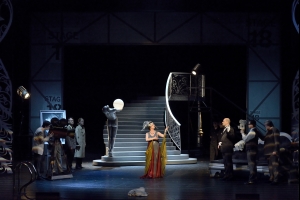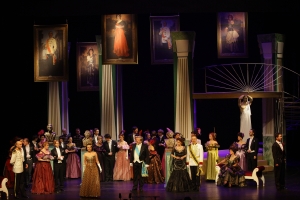 THE GYPSY PRINCESS
Scéna plesu v paláci knížete von Lippert-Weylersheim, 2. dějství
Šimon Caban
,
Peter Svetlík
(Edwin Roland, prince von Lippert - Weylersheim),
Roman Žiška
(Szerényi),
Jana Borková
(Sylva Varescu),
Josef Novák-Wajda
(Ambassador Mac Grave),
Eva Zbrožková
(Princess Anhilta, his wife),
Marcel Školout
(Prince Leopold Maria von Lippert - Weylersheim),
Janka Hoštáková
(Countess von Hoch-stack),
Robert Jícha
(Count Boni Kancsianu)
Photo by: Radovan Šťastný