OPERETTA / MUSICAL
ANYTHING GOES
Premiere Apr 4, 2019, 6.30 PM
Jiří Myron Theatre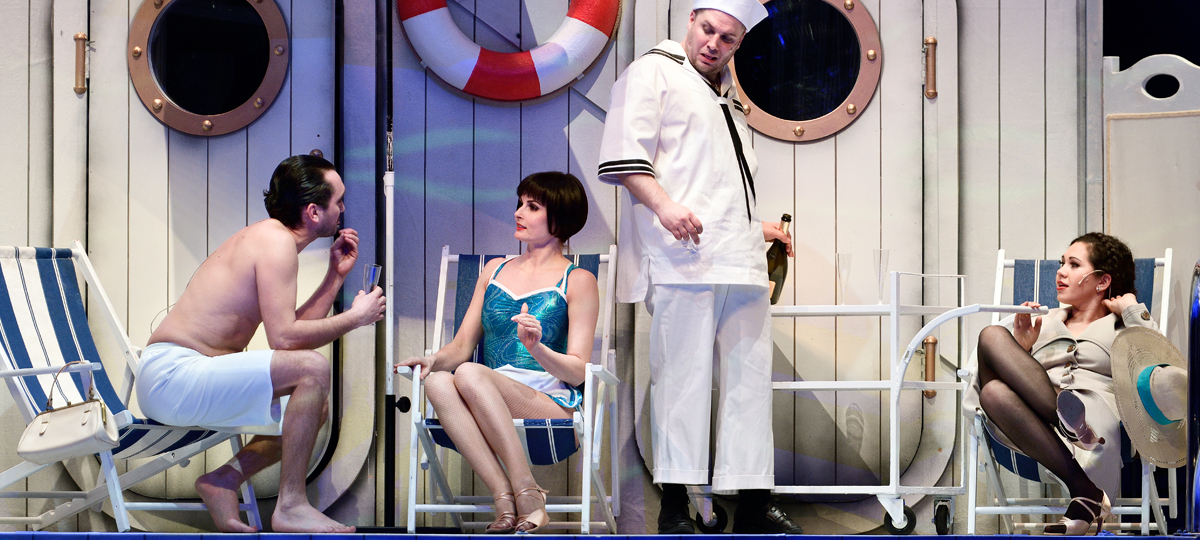 Detail
Realization Team / Cast
Show dates
Photo gallery
ANYTHING GOES
Premiere Apr 4, 2019, 6.30 PM - Jiří Myron Theatre
Singing, dancing and two hours of fun on a transoceanic steamship!
Informace
A music comedy Anything Goes takes place on a luxurious overseas ship while sailing from America to England. The crew on this ship consists of women eager to marry, couples in love, marriage imposters and crooks of all kinds including a fictitious priest and of course, there are also a stowaway and a FBI agent. A wide spectrum of characters and types of people meets and moves on the steamship wanting to get their way – anything goes. Simply, it is a world where everything is possible. The high number of characters allows to show the entire operetta/musical company with bells on. This staging is only the second production of this musical in our country, so news again.

The musical is performed thanks to the licence of Tams-Witmark Music Library, Inc.
Production team
Cast - Season:
Dates
Date
Time
Stage
Type
Detail
Tickets
Apr 3, 2019
9.00 AM
Jiří Myron Theatre
Veřejná generální zkouška
show detail
Apr 4, 2019
6.30 PM
Jiří Myron Theatre
Premiere
show detail
Apr 6, 2019
6.30 PM
Jiří Myron Theatre
2nd premiere
show detail
Apr 13, 2019
6.30 PM
Jiří Myron Theatre
Repetition
show detail
Apr 27, 2019
6.30 PM
Jiří Myron Theatre
Repetition
show detail
May 17, 2019
6.30 PM
Jiří Myron Theatre
Repetition
show detail
May 31, 2019
6.30 PM
Jiří Myron Theatre
Repetition
show detail
Jun 11, 2019
6.30 PM
Jiří Myron Theatre
Repetition
show detail
Jun 12, 2019
6.30 PM
Jiří Myron Theatre
Repetition
show detail
Oct 2, 2019
6.30 PM
Jiří Myron Theatre
Repetition
show detail
Oct 10, 2019
6.30 PM
Jiří Myron Theatre
Repetition
show detail
Oct 26, 2019
6.30 PM
Jiří Myron Theatre
Repetition
show detail
Oct 29, 2019
6.30 PM
Jiří Myron Theatre
Repetition
show detail
Nov 1, 2019
6.30 PM
Jiří Myron Theatre
Repetition
show detail
Nov 8, 2019
6.30 PM
Jiří Myron Theatre
Repetition
show detail
Nov 13, 2019
6.30 PM
Jiří Myron Theatre
Repetition
show detail
Nov 14, 2019
6.30 PM
Jiří Myron Theatre
Repetition
show detail
Dec 11, 2019
6.30 PM
Jiří Myron Theatre
Repetition
show detail
Dec 15, 2019
3.00 PM
Jiří Myron Theatre
Repetition
show detail
Dec 17, 2019
6.30 PM
Jiří Myron Theatre
Repetition
show detail
Dec 26, 2019
4.00 PM
Jiří Myron Theatre
Repetition
show detail
Dec 31, 2019
5.00 PM
Jiří Myron Theatre
Repetition
show detail
Jan 18, 2020
6.30 PM
Jiří Myron Theatre
Repetition
show detail
Jan 25, 2020
6.30 PM
Jiří Myron Theatre
Repetition
show detail
Feb 18, 2020
6.30 PM
Jiří Myron Theatre
Repetition
show detail
Dec 18, 2020
6.30 PM
Jiří Myron Theatre
Derniere
show detail
Gallery
Rehearsal gallery