OPERETTA / MUSICAL
EDITH AND MARLENE
Premiere Dec 19, 2013, 6.30 PM
Jiří Myron Theatre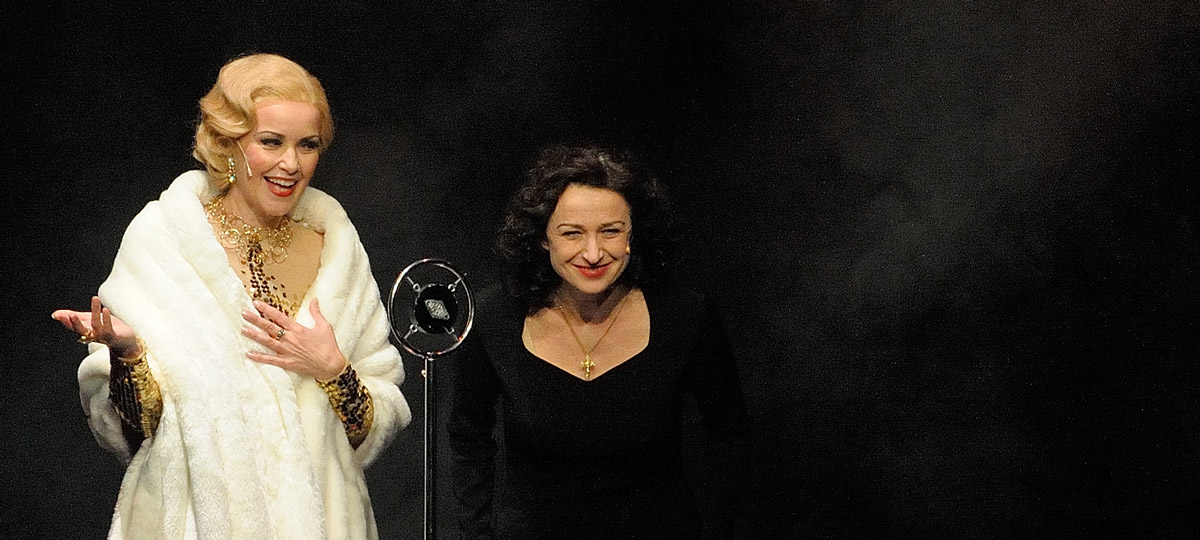 Detail
Realization Team / Cast
Show dates
Photo gallery
EDITH AND MARLENE
Premiere Dec 19, 2013, 6.30 PM - Jiří Myron Theatre
Love, passion, disappointment
Two legends in one musical

Informace
Hana Fialová received the Thalia Award 2014 for her extraordinary performance.

Breath-taking musical drama about the lives of two great personalities of the 20th century. Petite Edith Piaf impressed all of Paris and the divine Marlene Dietrich had the whole of

Hollywood at her feet

. Both conquered the world. But in reality they met only briefly. One overwhelmed the world with her acting talents, the other with her stunning voice. Their meeting, as well as their fates, gives birth to a story filled with contrast, feminine emotions and beautiful music. Janusz Klimsza's show has rightfully become one of the biggest hits of recent seasons.
Buy tickets
Next show dates
Jiří Myron Theatre

Tickets
Jiří Myron Theatre

Tickets
Production team
Cast - Season:
Dates
Date
Time
Stage
Type
Detail
Tickets
Dec 19, 2013
6.30 PM
Jiří Myron Theatre
Premiere
show detail
Dec 21, 2013
6.30 PM
Jiří Myron Theatre
2nd premiere
show detail
Dec 28, 2013
6.30 PM
Jiří Myron Theatre
Repetition
show detail
Jan 8, 2014
6.30 PM
Jiří Myron Theatre
Repetition
show detail
Jan 10, 2014
6.30 PM
Jiří Myron Theatre
Repetition
show detail
Jan 28, 2014
6.30 PM
Jiří Myron Theatre
Repetition
show detail
Feb 7, 2014
6.30 PM
Jiří Myron Theatre
Repetition
show detail
Mar 4, 2014
6.30 PM
Jiří Myron Theatre
Repetition
show detail
Mar 27, 2014
6.30 PM
Jiří Myron Theatre
Repetition
show detail
Mar 29, 2014
6.30 PM
Jiří Myron Theatre
Repetition
show detail
Apr 17, 2014
6.30 PM
Jiří Myron Theatre
Repetition
show detail
Apr 25, 2014
6.30 PM
Jiří Myron Theatre
Repetition
show detail
May 23, 2014
6.30 PM
Jiří Myron Theatre
Repetition
show detail
May 30, 2014
6.30 PM
Jiří Myron Theatre
Repetition
show detail
Jun 4, 2014
6.30 PM
Jiří Myron Theatre
Repetition
show detail
Jun 6, 2014
6.30 PM
Jiří Myron Theatre
Repetition
show detail
Jun 15, 2014
3.00 PM
Jiří Myron Theatre
Repetition
show detail
Sep 10, 2014
6.30 PM
Jiří Myron Theatre
Repetition
show detail
Sep 25, 2014
6.30 PM
Jiří Myron Theatre
Repetition
show detail
Oct 9, 2014
6.30 PM
Jiří Myron Theatre
Repetition
show detail
Oct 15, 2014
6.30 PM
Jiří Myron Theatre
Repetition
show detail
Nov 5, 2014
6.30 PM
Jiří Myron Theatre
Repetition
show detail
Dec 11, 2014
6.00 PM
Jiří Myron Theatre
Repetition
show detail
Dec 22, 2014
6.30 PM
Jiří Myron Theatre
Repetition
show detail
Jan 10, 2015
6.30 PM
Jiří Myron Theatre
Repetition
show detail
Jan 28, 2015
6.30 PM
Jiří Myron Theatre
Repetition
show detail
Feb 7, 2015
6.30 PM
Jiří Myron Theatre
Repetition
show detail
Feb 24, 2015
6.30 PM
Jiří Myron Theatre
Repetition
show detail
Apr 2, 2015
6.30 PM
Jiří Myron Theatre
Repetition
show detail
Apr 3, 2015
6.30 PM
Jiří Myron Theatre
Repetition
show detail
Apr 21, 2015
6.30 PM
Jiří Myron Theatre
Repetition
show detail
May 9, 2015
6.30 PM
Jiří Myron Theatre
Repetition
show detail
Jun 3, 2015
6.30 PM
Jiří Myron Theatre
Repetition
show detail
Jun 9, 2015
6.30 PM
Jiří Myron Theatre
Repetition
show detail
Jun 21, 2015
6.30 PM
Jiří Myron Theatre
Repetition
show detail
Jun 24, 2015
6.30 PM
Jiří Myron Theatre
Repetition
show detail
Sep 7, 2015
6.30 PM
Jiří Myron Theatre
Repetition
show detail
Sep 18, 2015
6.30 PM
Jiří Myron Theatre
Repetition
show detail
Sep 20, 2015
6.30 PM
Jiří Myron Theatre
Repetition
show detail
Oct 10, 2015
6.30 PM
Jiří Myron Theatre
Repetition
show detail
Nov 1, 2015
4.00 PM
Jiří Myron Theatre
Repetition
show detail
Nov 20, 2015
6.30 PM
Jiří Myron Theatre
Repetition
show detail
Dec 8, 2015
6.30 PM
Jiří Myron Theatre
Repetition
show detail
Dec 28, 2015
6.30 PM
Jiří Myron Theatre
Repetition
show detail
Jan 9, 2016
6.30 PM
Jiří Myron Theatre
Repetition
show detail
Jan 26, 2016
6.30 PM
Jiří Myron Theatre
Repetition
show detail
Jan 27, 2016
6.30 PM
Jiří Myron Theatre
Repetition
show detail
Feb 5, 2016
6.30 PM
Jiří Myron Theatre
Repetition
show detail
Mar 1, 2016
6.30 PM
Jiří Myron Theatre
Repetition
show detail
Apr 1, 2016
6.30 PM
Jiří Myron Theatre
Repetition
show detail
May 3, 2016
6.30 PM
Jiří Myron Theatre
Repetition
show detail
May 28, 2016
6.30 PM
Jiří Myron Theatre
Repetition
show detail
May 29, 2016
6.30 PM
Jiří Myron Theatre
Repetition
show detail
Jun 22, 2016
6.30 PM
Jiří Myron Theatre
Repetition
show detail
Sep 6, 2016
6.30 PM
Jiří Myron Theatre
Repetition
show detail
Sep 7, 2016
6.30 PM
Jiří Myron Theatre
Repetition
show detail
Oct 1, 2016
6.30 PM
Jiří Myron Theatre
Repetition
show detail
Oct 28, 2016
4.00 PM
Jiří Myron Theatre
Repetition
show detail
Nov 22, 2016
6.30 PM
Jiří Myron Theatre
Repetition
show detail
Dec 4, 2016
4.00 PM
Jiří Myron Theatre
Repetition
show detail
Dec 29, 2016
6.30 PM
Jiří Myron Theatre
Repetition
show detail
Jan 18, 2017
6.30 PM
Jiří Myron Theatre
Repetition
show detail
Jan 29, 2017
10.30 AM
Jiří Myron Theatre
Repetition
show detail
Feb 23, 2017
6.30 PM
Jiří Myron Theatre
Repetition
show detail
Feb 28, 2017
6.30 PM
Jiří Myron Theatre
Repetition
show detail
Mar 19, 2017
6.30 PM
Jiří Myron Theatre
Repetition
show detail
Apr 1, 2017
6.30 PM
Jiří Myron Theatre
Repetition
show detail
Apr 4, 2017
6.30 PM
Jiří Myron Theatre
Repetition
show detail
May 6, 2017
6.30 PM
Jiří Myron Theatre
Repetition
show detail
May 25, 2017
6.30 PM
Jiří Myron Theatre
Repetition
show detail
Jun 1, 2017
6.30 PM
Jiří Myron Theatre
Repetition
show detail
Sep 21, 2017
6.30 PM
Jiří Myron Theatre
Repetition
show detail
Sep 22, 2017
6.30 PM
Jiří Myron Theatre
Repetition
show detail
Sep 28, 2017
4.00 PM
Jiří Myron Theatre
Repetition
show detail
Oct 5, 2017
6.30 PM
Jiří Myron Theatre
Repetition
show detail
Oct 29, 2017
4.00 PM
Jiří Myron Theatre
Repetition
show detail
Nov 1, 2017
6.30 PM
Jiří Myron Theatre
Repetition
show detail
Nov 8, 2017
6.30 PM
Divadlo Hybernia
Repetition
show detail
Nov 26, 2017
4.00 PM
Jiří Myron Theatre
Repetition
show detail
Dec 22, 2017
6.30 PM
Jiří Myron Theatre
Repetition
show detail
Jan 10, 2018
6.30 PM
Jiří Myron Theatre
Repetition
show detail
Feb 17, 2018
6.30 PM
Jiří Myron Theatre
Repetition
show detail
Feb 18, 2018
4.00 PM
Jiří Myron Theatre
Repetition
show detail
Feb 22, 2018
6.30 PM
Jiří Myron Theatre
Repetition
show detail
Feb 25, 2018
4.00 PM
Jiří Myron Theatre
Repetition
show detail
Mar 2, 2018
6.30 PM
Jiří Myron Theatre
Repetition
show detail
Mar 9, 2018
6.30 PM
Jiří Myron Theatre
Repetition
show detail
Mar 29, 2018
6.30 PM
Jiří Myron Theatre
Repetition
show detail
Oct 19, 2018
6.30 PM
Jiří Myron Theatre
Repetition
show detail
Oct 24, 2018
6.30 PM
Jiří Myron Theatre
Repetition
show detail
Nov 1, 2018
6.30 PM
Jiří Myron Theatre
Repetition
show detail
Nov 10, 2018
6.30 PM
Jiří Myron Theatre
Repetition
show detail
Nov 25, 2018
4.00 PM
Jiří Myron Theatre
Repetition
show detail
Dec 20, 2018
6.30 PM
Jiří Myron Theatre
Repetition
show detail
Jan 10, 2019
6.30 PM
Jiří Myron Theatre
Repetition
show detail
Feb 5, 2019
6.30 PM
Jiří Myron Theatre
Repetition
show detail
Mar 15, 2019
6.30 PM
Jiří Myron Theatre
Repetition
show detail
Mar 22, 2019
6.30 PM
Jiří Myron Theatre
Repetition
show detail
Apr 24, 2019
6.30 PM
Jiří Myron Theatre
Repetition
show detail
May 9, 2019
6.30 PM
Jiří Myron Theatre
Repetition
show detail
May 15, 2019
6.30 PM
Jiří Myron Theatre
Repetition
show detail
May 29, 2019
6.30 PM
Jiří Myron Theatre
Repetition
show detail
Jun 4, 2019
6.30 PM
Jiří Myron Theatre
Repetition
show detail
Sep 11, 2019
6.30 PM
Jiří Myron Theatre
Repetition
show detail
Oct 25, 2019
6.30 PM
Jiří Myron Theatre
Repetition
show detail
Nov 15, 2019
6.30 PM
Jiří Myron Theatre
Repetition
show detail
Dec 18, 2019
6.30 PM
Jiří Myron Theatre
Repetition
show detail
Jan 17, 2020
6.30 PM
Jiří Myron Theatre
Repetition
show detail
Feb 27, 2020
6.30 PM
Jiří Myron Theatre
Repetition
show detail
Sep 24, 2020
6.30 PM
Jiří Myron Theatre
Repetition
show detail
Sep 3, 2021
6.30 PM
Jiří Myron Theatre
Repetition
show detail
Sep 10, 2021
6.30 PM
Jiří Myron Theatre
Repetition
show detail
Sep 17, 2021
6.30 PM
Jiří Myron Theatre
Repetition
show detail
Oct 1, 2021
6.30 PM
Jiří Myron Theatre
Repetition
show detail
Oct 22, 2021
6.30 PM
Jiří Myron Theatre
Repetition
show detail
Nov 27, 2021
6.30 PM
Jiří Myron Theatre
Repetition
show detail
Jan 7, 2022
6.30 PM
Jiří Myron Theatre
Repetition
show detail
tickets
Feb 15, 2022
6.30 PM
Jiří Myron Theatre
Repetition
show detail
tickets
Mar 30, 2022
6.30 PM
Jiří Myron Theatre
Repetition
show detail
Apr 21, 2022
6.30 PM
Jiří Myron Theatre
Repetition
show detail
May 4, 2022
6.30 PM
Jiří Myron Theatre
Derniere
show detail
Rehearsal gallery