OPERA
LA TRAVIATA
Repetition Feb 1, 2022, 6.30 PM
Antonín Dvořák Theatre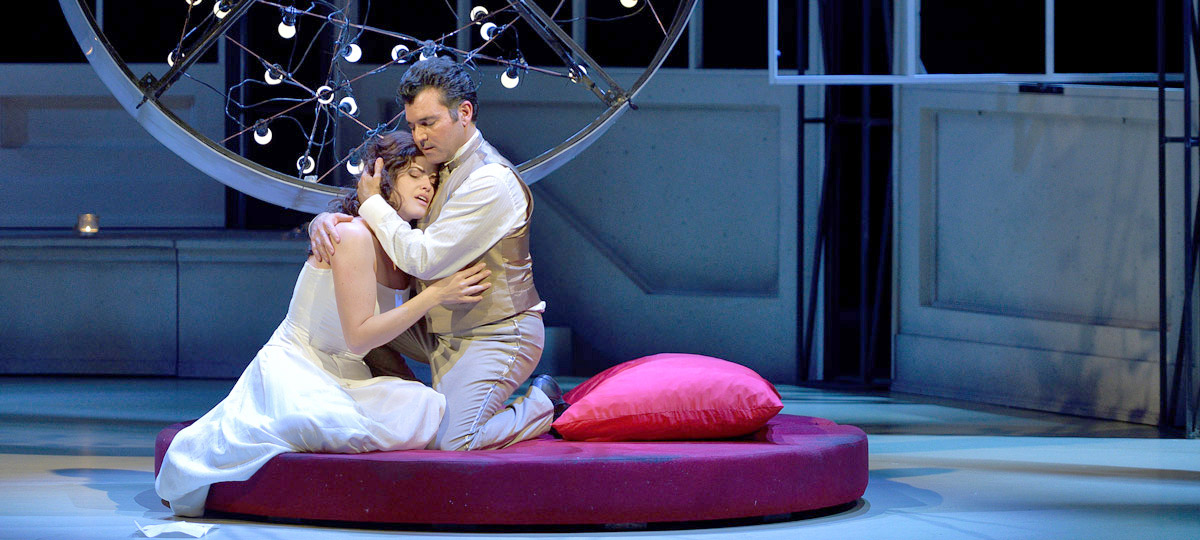 Detail
Realization Team / Cast
Show dates
Photo gallery
LA TRAVIATA
- Repetition Feb 1, 2022
Repetition Feb 1, 2022, 6.30 PM - Antonín Dvořák Theatre
An opera in three acts and four scenes from 1853
Informace
Libretto by Francesco Maria Piave (1810-1876) based on the novel The Lady of the Camellias (La Dame aux camélias) by Alexander Dumas, fils (1824-1895) from 1848

After the success of Rigoletto and Il Trovatore, Verdi, who was always loved by his audience, chose a historical social topic in his play La Traviata (The Fallen Woman). The Italian opera tradition is strongly embedded in this work. Verdi uses melodies and expressive dance rhythms to portray the tragic love story of a Parisian courtesan and a young bourgeois man from a provincial family. Sensual attraction leads to a forbidden romance, continues as a scandalous affair and ends up as a heartbreaking tragedy.
Performed in Italian with Czech and English subtitles.
Buy tickets
Production team
Dates
Date
Time
Stage
Type
Detail
Tickets
May 3, 2018
6.30 PM
Antonín Dvořák Theatre
Premiere
show detail
May 5, 2018
6.30 PM
Antonín Dvořák Theatre
2nd premiere
show detail
May 12, 2018
6.30 PM
Antonín Dvořák Theatre
Repetition
show detail
Jun 6, 2018
6.30 PM
Antonín Dvořák Theatre
Repetition
show detail
Jun 17, 2018
6.30 PM
Antonín Dvořák Theatre
Repetition
show detail
Sep 4, 2018
6.30 PM
Antonín Dvořák Theatre
Repetition
show detail
Sep 20, 2018
6.30 PM
Antonín Dvořák Theatre
Repetition
show detail
Oct 5, 2018
6.30 PM
Antonín Dvořák Theatre
Repetition
show detail
Oct 10, 2018
6.30 PM
Antonín Dvořák Theatre
Repetition
show detail
Oct 25, 2018
6.30 PM
Antonín Dvořák Theatre
Repetition
show detail
Nov 11, 2018
3.00 PM
Antonín Dvořák Theatre
Repetition
show detail
Nov 13, 2018
6.30 PM
Antonín Dvořák Theatre
Repetition
show detail
Nov 30, 2018
6.30 PM
Antonín Dvořák Theatre
Repetition
show detail
Dec 4, 2018
6.30 PM
Antonín Dvořák Theatre
Repetition
show detail
Dec 28, 2018
6.30 PM
Antonín Dvořák Theatre
Repetition
show detail
Jan 16, 2019
6.30 PM
Antonín Dvořák Theatre
Repetition
show detail
Jan 22, 2019
6.30 PM
Antonín Dvořák Theatre
Repetition
show detail
Feb 9, 2019
6.30 PM
Antonín Dvořák Theatre
Repetition
show detail
Mar 16, 2019
6.30 PM
Antonín Dvořák Theatre
Repetition
show detail
Mar 30, 2019
6.30 PM
Antonín Dvořák Theatre
Repetition
show detail
May 5, 2019
6.30 PM
Antonín Dvořák Theatre
Repetition
show detail
Nov 2, 2019
6.30 PM
Antonín Dvořák Theatre
Repetition
show detail
Nov 9, 2019
6.30 PM
Antonín Dvořák Theatre
Repetition
show detail
Nov 29, 2019
6.30 PM
Antonín Dvořák Theatre
Repetition
show detail
Dec 30, 2019
6.30 PM
Antonín Dvořák Theatre
Repetition
show detail
Jan 23, 2020
6.30 PM
Antonín Dvořák Theatre
Repetition
show detail
Nov 27, 2021
6.30 PM
Antonín Dvořák Theatre
Repetition
show detail
tickets
Nov 30, 2021
6.30 PM
Antonín Dvořák Theatre
Repetition
show detail
tickets
Dec 5, 2021
4.00 PM
Antonín Dvořák Theatre
Repetition
show detail
tickets
Feb 1, 2022
6.30 PM
Antonín Dvořák Theatre
Repetition
show detail
Mar 27, 2022
4.00 PM
Antonín Dvořák Theatre
Repetition
show detail
Rehearsal gallery