OPERA
FATE
Repetition Feb 8, 2019, 6.30 PM
Antonín Dvořák Theatre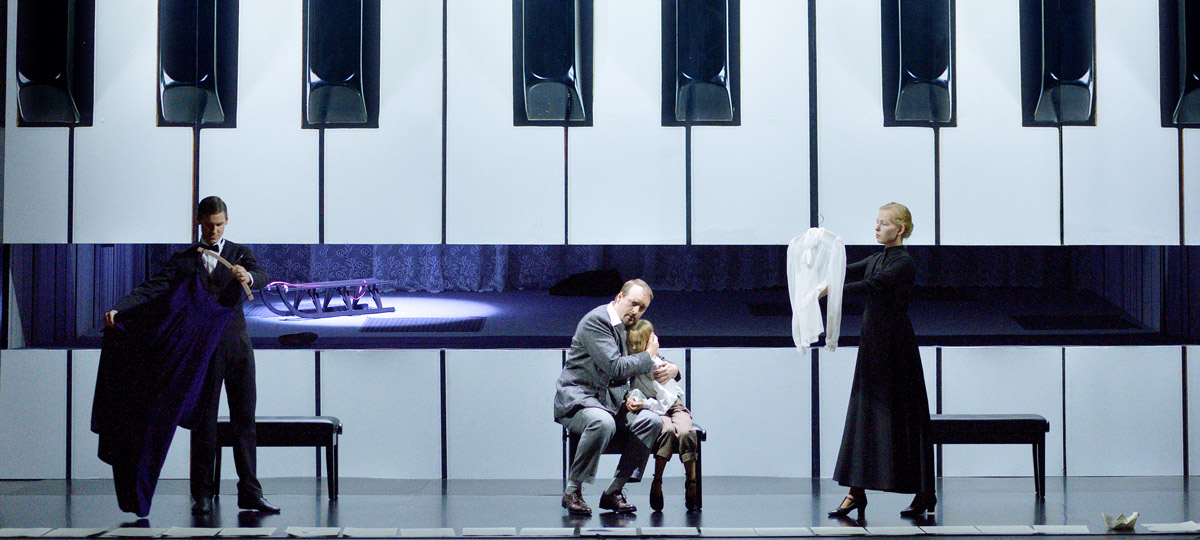 Detail
Realization Team / Cast
Show dates
Photo gallery
Articles, video, audio
FATE
- Repetition Feb 8, 2019
Repetition Feb 8, 2019, 6.30 PM - Antonín Dvořák Theatre
A spa romance in composer's life
Informace
| | |
| --- | --- |
| | Janáček's "waltz" opera was composed in a conscious contrast to the previous opera Jenufa/Her Stepdaughter– using all the effects of impressionism and verism. After the death of his daughter Olga the composer was looking for the theme while enchanted by a 28-year-old "Star from Luhačovice": the theme "fresh, modern, bursting with life and elegance". The work evidently contains autobiographical elements (Janáček's love Kamila Urválková - character Mila Válková) but the inspiration by Eugene Onegin is obvious as well. The opera taking place at the colonnade of the Luhačovice Spa in a stifling family atmosphere and several years later in the conservatory's auditorium, where the new opera is practiced, are connected with the question: Do you know what love is? |
Performed in Czech with Czech and English subtitles.
The contents of the opera Fate to download
here
.
By introducing this opera, the National Moravian-Silesian Theatre will become the second theatre in the world where the complete opera work by Leoš Janáček has been presented and what's more it is in 2018 - when his jubilee celebrations will take place.

Buy tickets
Production team
Cast at date: Feb 8, 2019
Dates
Date
Time
Stage
Type
Detail
Tickets
Oct 18, 2018
6.30 PM
Antonín Dvořák Theatre
Premiere
show detail
Oct 20, 2018
6.30 PM
Antonín Dvořák Theatre
2nd premiere
show detail
Oct 27, 2018
6.30 PM
Antonín Dvořák Theatre
Repetition
show detail
Nov 21, 2018
6.30 PM
Antonín Dvořák Theatre
Repetition
show detail
Nov 22, 2018
6.30 PM
Antonín Dvořák Theatre
Repetition
show detail
Nov 24, 2018
7.00 PM
IFJB 2010
Repetition
show detail
Jan 18, 2019
6.30 PM
Antonín Dvořák Theatre
Repetition
show detail
Jan 29, 2019
6.30 PM
Antonín Dvořák Theatre
Repetition
show detail
Feb 8, 2019
6.30 PM
Antonín Dvořák Theatre
Repetition
show detail
Mar 13, 2019
6.30 PM
Antonín Dvořák Theatre
Repetition
show detail
Mar 21, 2019
6.30 PM
Antonín Dvořák Theatre
Repetition
show detail
Apr 16, 2019
6.30 PM
Antonín Dvořák Theatre
Repetition
show detail
May 23, 2019
6.30 PM
Antonín Dvořák Theatre
Repetition
show detail
Sep 11, 2019
6.30 PM
Antonín Dvořák Theatre
Repetition
show detail
Sep 13, 2019
6.30 PM
Antonín Dvořák Theatre
Repetition
show detail
Dec 1, 2019
3.00 PM
Antonín Dvořák Theatre
Repetition
show detail
tickets
Jan 4, 2020
7.00 PM
National Theatre Prague
Derniere
show detail
Gallery
Rehearsal gallery
Články
Video
Audio