MUSICAL
SWEENEY TODD: THE DEMON BARBER OF FLEET STREET
Premiere Feb 2, 2023, 6.30 PM
Jiří Myron Theatre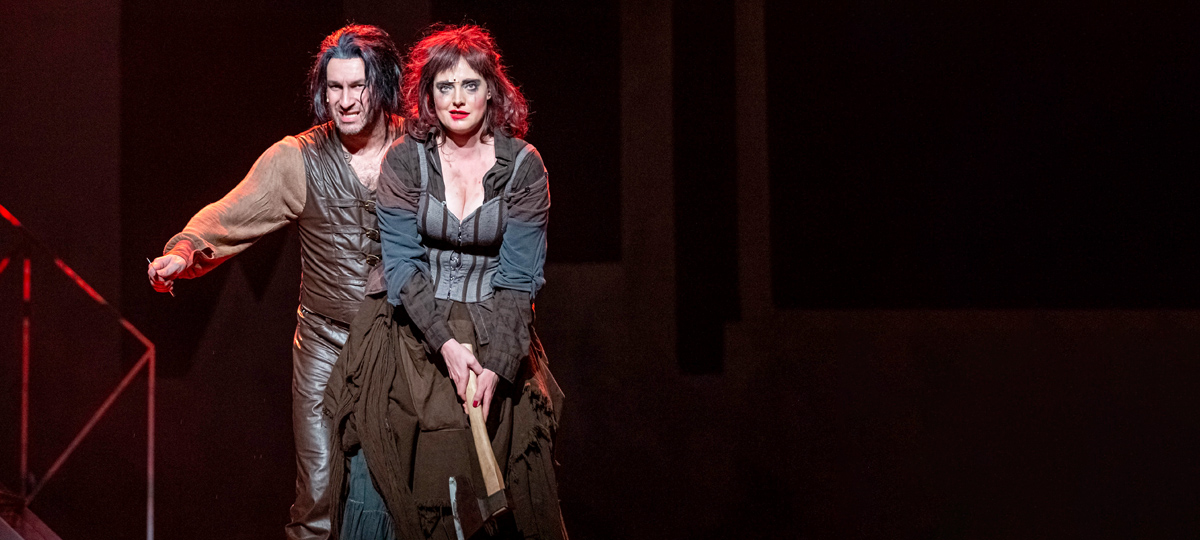 Detail
Realization Team / Cast
Show dates
Photo gallery
Articles, video, audio
SWEENEY TODD: THE DEMON BARBER OF FLEET STREET
Premiere Feb 2, 2023, 6.30 PM - Jiří Myron Theatre
Informace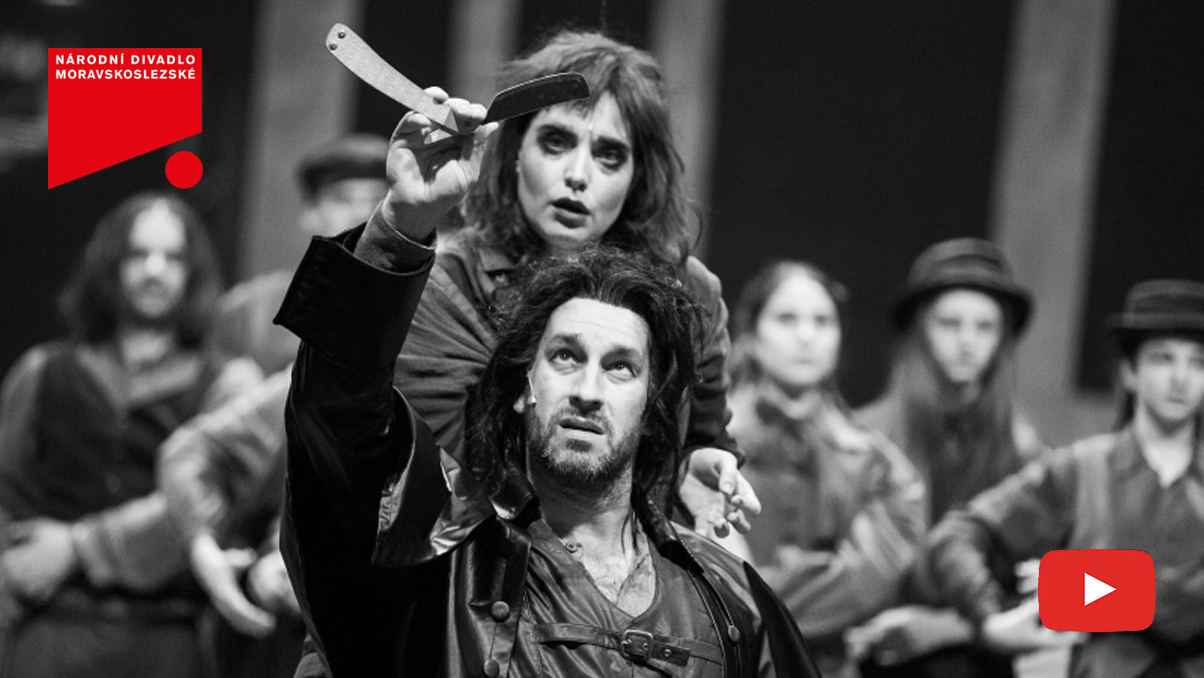 Based on the original by Christopher Bond
Original stage direction on Broadway Harold Prince
Instrumentation Johathan Tunick
Czech translation Hana Nováková
Stage director Juraj Čiernik
Musical preparation Marek Prášil

Sweeney Todd is out for revenge. And rightly so—a vicious judge took his wife, child, and freedom years ago. Now, Sweeney is back, resuming his business as a barber and hairdresser. But where have some of his customers gone? And why has the meat pie shop run by Sweeney's neighbour Mrs. Lovett suddenly begun to thrive?
A black comedy or thriller is set in the poorest part of London, where nothing is free and everyone takes justice into their own hands. Since its premiere in 1979, legendary Broadway composer and lyricist Stephen Sondheim has literally taken the world by storm with his musical, having it performed in most chamber theatres as well as famous opera houses. In the Czech Republic, our staging makes the production be staged on a major stage for the first time.

Performed in agreement with the Music Theatre International (Europe) Ltd.
| | | |
| --- | --- | --- |
| Media partners: | | |
| Partners: | | |
Buy tickets
Production team
Cast - Season:
Dates
Date
Time
Stage
Type
Detail
Tickets
Feb 1, 2023
Jiří Myron Theatre
Veřejná generální zkouška
show detail
Feb 2, 2023
6.30 PM
Jiří Myron Theatre
Premiere
show detail
Feb 4, 2023
6.30 PM
Jiří Myron Theatre
2nd premiere
show detail
Feb 17, 2023
6.30 PM
Jiří Myron Theatre
Repetition
show detail
Feb 18, 2023
6.30 PM
Jiří Myron Theatre
Repetition
show detail
Mar 11, 2023
6.30 PM
Jiří Myron Theatre
Repetition
show detail
Mar 30, 2023
6.30 PM
Jiří Myron Theatre
Repetition
show detail
Apr 4, 2023
6.30 PM
Jiří Myron Theatre
Repetition
show detail
Apr 11, 2023
6.30 PM
Jiří Myron Theatre
Repetition
show detail
Apr 26, 2023
6.30 PM
Jiří Myron Theatre
Repetition
show detail
May 4, 2023
6.30 PM
Jiří Myron Theatre
Repetition
show detail
May 12, 2023
6.30 PM
Jiří Myron Theatre
Repetition
show detail
May 13, 2023
6.30 PM
Jiří Myron Theatre
Repetition
show detail
May 14, 2023
3.00 PM
Jiří Myron Theatre
Repetition
show detail
May 19, 2023
6.30 PM
Jiří Myron Theatre
Repetition
show detail
Jun 14, 2023
6.30 PM
Jiří Myron Theatre
Repetition
show detail
Sep 14, 2023
6.30 PM
Jiří Myron Theatre
Repetition
show detail
Sep 15, 2023
6.30 PM
Jiří Myron Theatre
Repetition
show detail
Oct 28, 2023
4.00 PM
Jiří Myron Theatre
Repetition
show detail
Oct 29, 2023
4.00 PM
Jiří Myron Theatre
Repetition
show detail
Nov 18, 2023
6.30 PM
Jiří Myron Theatre
Repetition
show detail
Dec 14, 2023
6.30 PM
Jiří Myron Theatre
Repetition
show detail
Dec 15, 2023
6.30 PM
Jiří Myron Theatre
Repetition
show detail
Jan 12, 2024
6.30 PM
Jiří Myron Theatre
Repetition
show detail
Mar 19, 2024
6.30 PM
Jiří Myron Theatre
Repetition
show detail
Mar 20, 2024
6.30 PM
Jiří Myron Theatre
Repetition
show detail
May 3, 2024
6.30 PM
Jiří Myron Theatre
Repetition
show detail
May 25, 2024
6.30 PM
Jiří Myron Theatre
Repetition
show detail
Gallery
Rehearsal gallery
Články
Video
Audio
Související