OPERA
THE BARTERED BRIDE
Repetition Jan 13, 2023, 6.30 PM
Antonín Dvořák Theatre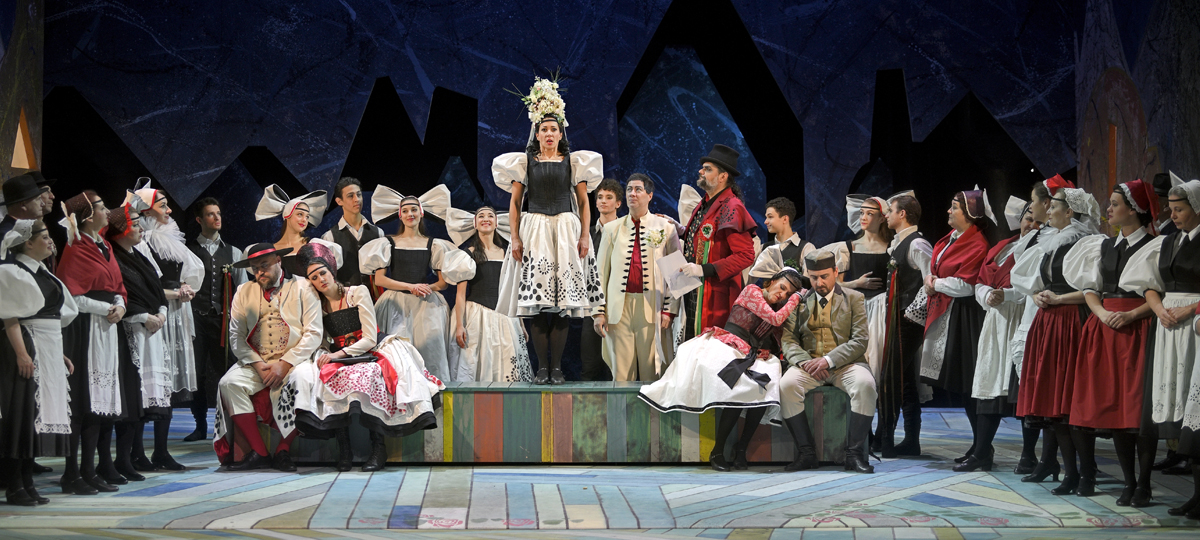 Detail
Realization Team / Cast
Show dates
Photo gallery
Articles, video, audio
Repetition Jan 13, 2023, 6.30 PM - Antonín Dvořák Theatre
Comic opera in three acts from 1866
Informace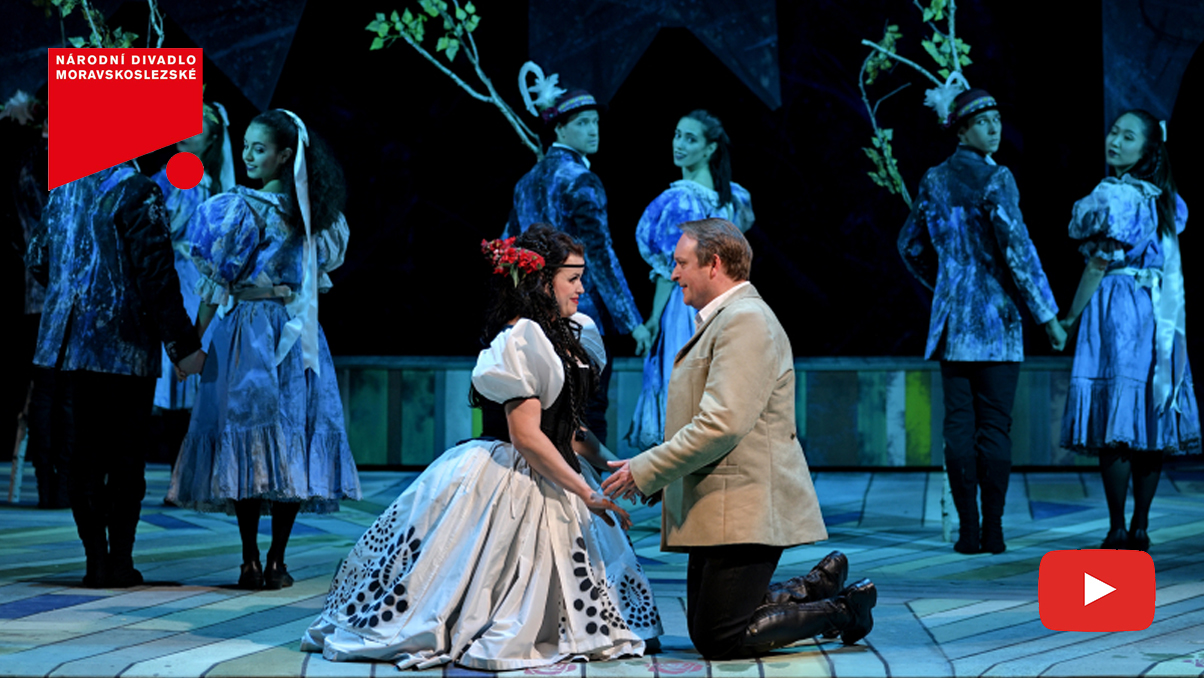 Libretto by Karel Sabina (1813–1877)

Musical preparation Marek Šedivý
Stage director Jiří Nekvasil

The most popular Czech national opera and one of the best comic operas in the world repertoire returns to our stage after three years.
It was for the second time Bedřich Smetana and Karel Sabina created together, and they decided to work on a theme that proceeds from a village setting. Though the creative process culminating in opera was not easy, the joint work resulted in a piece abound in brilliant music, characterisation, and last but not least dazzling comedy.
Moreover, the opera, of course, is also fundamental as far as the history of our theatre is concerned—on 12 August 1919, the opera that was musically prepared by Emanuel Bastl and directed by Karel Kügler premiered on the stage of the National Moravian-Silesian Theatre, by which the theatre operation was launched. Since then, the opera has been staged on our stage in thirteen more productions.

Performed in the Czech original with Czech and English subtitles.
A co-production between the SNG Opera in balet Ljubljana.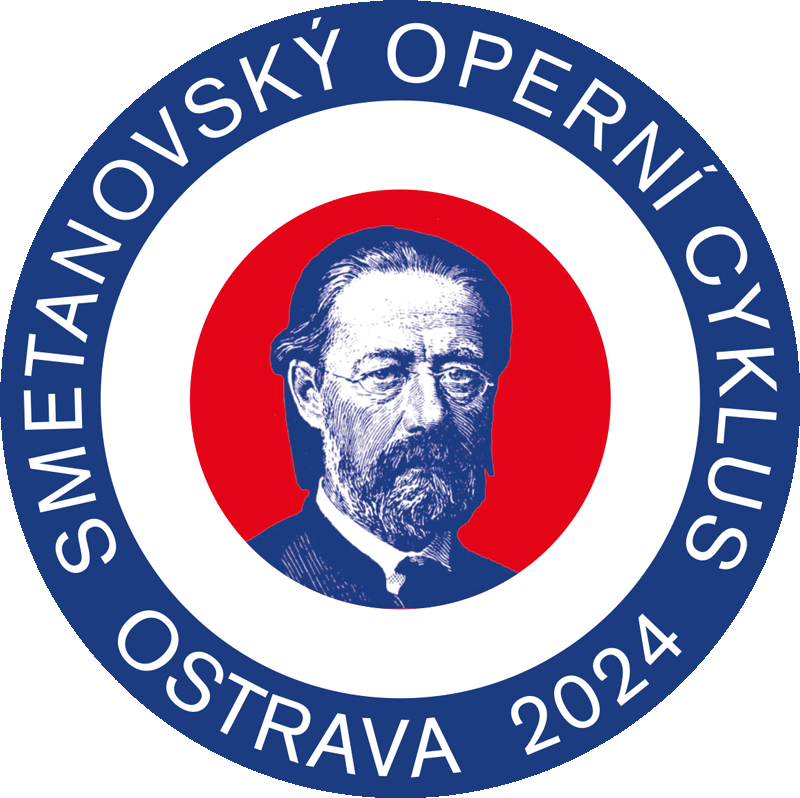 | | | | | | |
| --- | --- | --- | --- | --- | --- |
| Media partners: | | | | | |
| Partners: | | | | | |
Buy tickets
Production team
Cast at date: Jan 13, 2023
Dates
Date
Time
Stage
Type
Detail
Tickets
Dec 13, 2022
Antonín Dvořák Theatre
Veřejná generální zkouška
show detail
Dec 15, 2022
6.30 PM
Antonín Dvořák Theatre
Premiere
show detail
Dec 17, 2022
6.30 PM
Antonín Dvořák Theatre
2nd premiere
show detail
Dec 21, 2022
6.30 PM
Antonín Dvořák Theatre
Repetition
show detail
Dec 29, 2022
6.30 PM
Antonín Dvořák Theatre
Repetition
show detail
Jan 13, 2023
6.30 PM
Antonín Dvořák Theatre
Repetition
show detail
Jan 19, 2023
6.30 PM
Antonín Dvořák Theatre
Repetition
show detail
Feb 21, 2023
6.30 PM
Antonín Dvořák Theatre
Repetition
show detail
Mar 4, 2023
6.30 PM
Antonín Dvořák Theatre
Repetition
show detail
Mar 22, 2023
6.30 PM
Antonín Dvořák Theatre
Repetition
show detail
Apr 16, 2023
3.00 PM
Antonín Dvořák Theatre
Repetition
show detail
May 23, 2023
6.30 PM
Antonín Dvořák Theatre
Repetition
show detail
Jun 28, 2023
8.30 PM
Litomyšl
Repetition
show detail
Oct 1, 2023
4.00 PM
Antonín Dvořák Theatre
Repetition
show detail
Oct 4, 2023
6.30 PM
Antonín Dvořák Theatre
Repetition
show detail
Oct 21, 2023
6.30 PM
Antonín Dvořák Theatre
Repetition
show detail
Nov 9, 2023
6.30 PM
Antonín Dvořák Theatre
Repetition
show detail
Dec 2, 2023
6.30 PM
Antonín Dvořák Theatre
Repetition
show detail
Dec 19, 2023
6.30 PM
Antonín Dvořák Theatre
Repetition
show detail
Dec 27, 2023
6.30 PM
Antonín Dvořák Theatre
Repetition
show detail
Feb 2, 2024
6.30 PM
Antonín Dvořák Theatre
Repetition
show detail
Mar 3, 2024
4.00 PM
Antonín Dvořák Theatre
Repetition
show detail
Mar 13, 2024
6.30 PM
Antonín Dvořák Theatre
Repetition
show detail
Apr 5, 2024
6.30 PM
Antonín Dvořák Theatre
Repetition
show detail
May 5, 2024
4.00 PM
Antonín Dvořák Theatre
Repetition
show detail
May 17, 2024
6.30 PM
Antonín Dvořák Theatre
Repetition
show detail
Rehearsal gallery
Související