OPERETTA / MUSICAL
CATS
Repetition Nov 7, 2021, 4.00 PM
Jiří Myron Theatre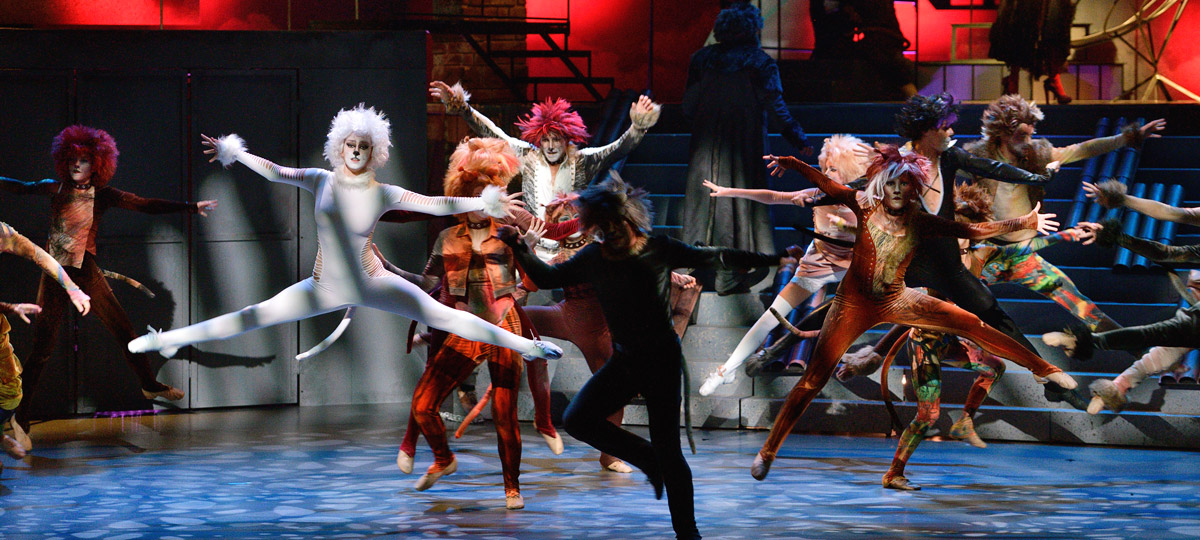 Detail
Realization Team / Cast
Show dates
Photo gallery
Articles, video, audio
CATS
- Repetition Nov 7, 2021
Repetition Nov 7, 2021, 4.00 PM - Jiří Myron Theatre
The world-famous musical in Ostrava for the first time!
Informace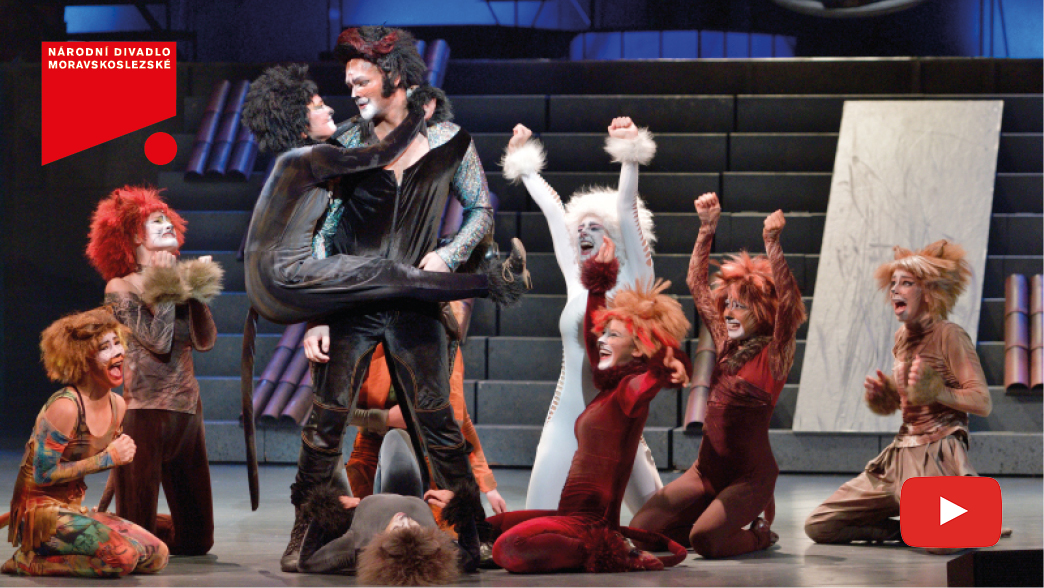 Andrew Lloyd Webber (1948) based on a collection of poems Old Possum's Book of Practical Cats by T.S. Eliot

There is no other work that would be accompanied by so many superlatives in the history of musicals! It is one of the longest performed musicals in the history of London's West End and New York Broadway and it has been seen by over 67 million people all over the world. It has been performed at New London Theater for 21 years! The musical won the most prestigious world awards - Grammy Awards two times and also Tony Awards seven times. Lloyd Webber is fond of recalling how his mother Jean used to read versed fairy tales about cats from Thomas Stearns Eliot to him. According to these tales, he wrote the poetic dance musical full of marvelous fantasy which is also one of the most demanding theatre works when it comes to implementation.

The musical CATS is performed thanks to the licence of The Really Useful Group Ltd.
| | | | |
| --- | --- | --- | --- |
| Media partners: | | | |
| Partners: | | | |
Buy tickets
Production team
Cast at date: Nov 7, 2021
Dates
Date
Time
Stage
Type
Detail
Tickets
Sep 20, 2018
6.30 PM
Jiří Myron Theatre
Premiere
show detail
Sep 22, 2018
6.30 PM
Jiří Myron Theatre
1st repetition
show detail
Sep 29, 2018
6.30 PM
Jiří Myron Theatre
Repetition
show detail
Sep 30, 2018
6.30 PM
Jiří Myron Theatre
Repetition
show detail
Oct 4, 2018
6.30 PM
Jiří Myron Theatre
Repetition
show detail
Oct 14, 2018
3.00 PM
Jiří Myron Theatre
Repetition
show detail
Oct 31, 2018
6.30 PM
Jiří Myron Theatre
Repetition
show detail
Nov 2, 2018
6.30 PM
Jiří Myron Theatre
Repetition
show detail
Nov 9, 2018
6.30 PM
Jiří Myron Theatre
Repetition
show detail
Nov 27, 2018
6.30 PM
Jiří Myron Theatre
Repetition
show detail
Dec 6, 2018
6.30 PM
Jiří Myron Theatre
Repetition
show detail
Dec 15, 2018
6.30 PM
Jiří Myron Theatre
Repetition
show detail
Dec 16, 2018
4.00 PM
Jiří Myron Theatre
Repetition
show detail
Dec 31, 2018
5.00 PM
Jiří Myron Theatre
Repetition
show detail
Jan 22, 2019
6.30 PM
Jiří Myron Theatre
Repetition
show detail
Jan 23, 2019
6.30 PM
Jiří Myron Theatre
Repetition
show detail
Jan 24, 2019
6.30 PM
Jiří Myron Theatre
Repetition
show detail
Feb 16, 2019
6.30 PM
Jiří Myron Theatre
Repetition
show detail
Feb 17, 2019
4.00 PM
Jiří Myron Theatre
Repetition
show detail
Feb 21, 2019
6.30 PM
Jiří Myron Theatre
Repetition
show detail
Mar 5, 2019
6.30 PM
Jiří Myron Theatre
Repetition
show detail
Mar 8, 2019
6.30 PM
Jiří Myron Theatre
Repetition
show detail
Mar 9, 2019
6.30 PM
Jiří Myron Theatre
Repetition
show detail
Apr 14, 2019
4.00 PM
Jiří Myron Theatre
Repetition
show detail
May 2, 2019
6.30 PM
Jiří Myron Theatre
Repetition
show detail
May 4, 2019
6.30 PM
Jiří Myron Theatre
Repetition
show detail
Jun 2, 2019
6.30 PM
Jiří Myron Theatre
Repetition
show detail
Jun 8, 2019
6.30 PM
Jiří Myron Theatre
Repetition
show detail
Jun 14, 2019
6.30 PM
Jiří Myron Theatre
Repetition
show detail
Sep 13, 2019
6.30 PM
Jiří Myron Theatre
Repetition
show detail
Sep 14, 2019
6.30 PM
Jiří Myron Theatre
Repetition
show detail
Sep 28, 2019
4.00 PM
Jiří Myron Theatre
Repetition
show detail
Sep 29, 2019
4.00 PM
Jiří Myron Theatre
Repetition
show detail
Oct 24, 2019
6.30 PM
Jiří Myron Theatre
Repetition
show detail
Oct 27, 2019
4.00 PM
Jiří Myron Theatre
Repetition
show detail
Nov 5, 2019
7.00 PM
Hudební divadlo Karlín
Repetition
show detail
Nov 16, 2019
6.30 PM
Jiří Myron Theatre
Repetition
show detail
Dec 4, 2019
6.30 PM
Jiří Myron Theatre
Repetition
show detail
Dec 13, 2019
6.30 PM
Jiří Myron Theatre
Repetition
show detail
Dec 14, 2019
6.30 PM
Jiří Myron Theatre
Repetition
show detail
Dec 22, 2019
4.00 PM
Jiří Myron Theatre
Repetition
show detail
Dec 30, 2019
6.30 PM
Jiří Myron Theatre
Repetition
show detail
Jan 19, 2020
4.00 PM
Jiří Myron Theatre
Repetition
show detail
Jan 26, 2020
4.00 PM
Jiří Myron Theatre
Repetition
show detail
Feb 15, 2020
6.30 PM
Jiří Myron Theatre
Repetition
show detail
Feb 16, 2020
4.00 PM
Jiří Myron Theatre
Repetition
show detail
Mar 1, 2020
4.00 PM
Jiří Myron Theatre
Repetition
show detail
Nov 5, 2021
6.30 PM
Jiří Myron Theatre
Repetition
show detail
Nov 6, 2021
6.30 PM
Jiří Myron Theatre
Repetition
show detail
Nov 7, 2021
4.00 PM
Jiří Myron Theatre
Repetition
show detail
Dec 5, 2021
4.00 PM
Jiří Myron Theatre
Repetition
show detail
Jan 13, 2022
6.30 PM
Jiří Myron Theatre
Repetition
show detail
Feb 12, 2022
6.30 PM
Jiří Myron Theatre
Repetition
show detail
Feb 13, 2022
4.00 PM
Jiří Myron Theatre
Repetition
show detail
Mar 19, 2022
6.30 PM
Jiří Myron Theatre
Repetition
show detail
Apr 28, 2022
6.30 PM
Jiří Myron Theatre
Repetition
show detail
May 18, 2022
6.30 PM
Jiří Myron Theatre
Repetition
show detail
Sep 24, 2022
6.30 PM
Jiří Myron Theatre
Repetition
show detail
Sep 25, 2022
4.00 PM
Jiří Myron Theatre
Repetition
show detail
Sep 27, 2022
6.30 PM
Jiří Myron Theatre
Repetition
show detail
Oct 5, 2022
6.30 PM
Jiří Myron Theatre
Repetition
show detail
Nov 3, 2022
6.30 PM
Jiří Myron Theatre
Repetition
show detail
Dec 6, 2022
6.30 PM
Jiří Myron Theatre
Repetition
show detail
Dec 20, 2022
6.30 PM
Jiří Myron Theatre
Repetition
show detail
Dec 26, 2022
4.00 PM
Jiří Myron Theatre
Repetition
show detail
Jan 19, 2023
6.30 PM
Jiří Myron Theatre
Repetition
show detail
Mar 2, 2023
6.30 PM
Jiří Myron Theatre
Repetition
show detail
Mar 3, 2023
6.30 PM
Jiří Myron Theatre
Repetition
show detail
Apr 22, 2023
6.30 PM
Jiří Myron Theatre
Repetition
show detail
Apr 23, 2023
4.00 PM
Jiří Myron Theatre
Repetition
show detail
May 16, 2023
6.30 PM
Jiří Myron Theatre
Repetition
show detail
May 17, 2023
6.30 PM
Jiří Myron Theatre
Repetition
show detail
Jun 22, 2023
6.30 PM
Jiří Myron Theatre
Repetition
show detail
Jun 27, 2023
6.30 PM
Jiří Myron Theatre
Repetition
show detail
Jun 28, 2023
6.30 PM
Jiří Myron Theatre
Repetition
show detail
Jun 29, 2023
6.30 PM
Jiří Myron Theatre
Derniere
show detail
Rehearsal gallery
Články
Video
Audio
Související