OPERETTA / MUSICAL
HARPAGON IS THE MISER?
Repetition Mar 19, 2023, 4.00 PM
Jiří Myron Theatre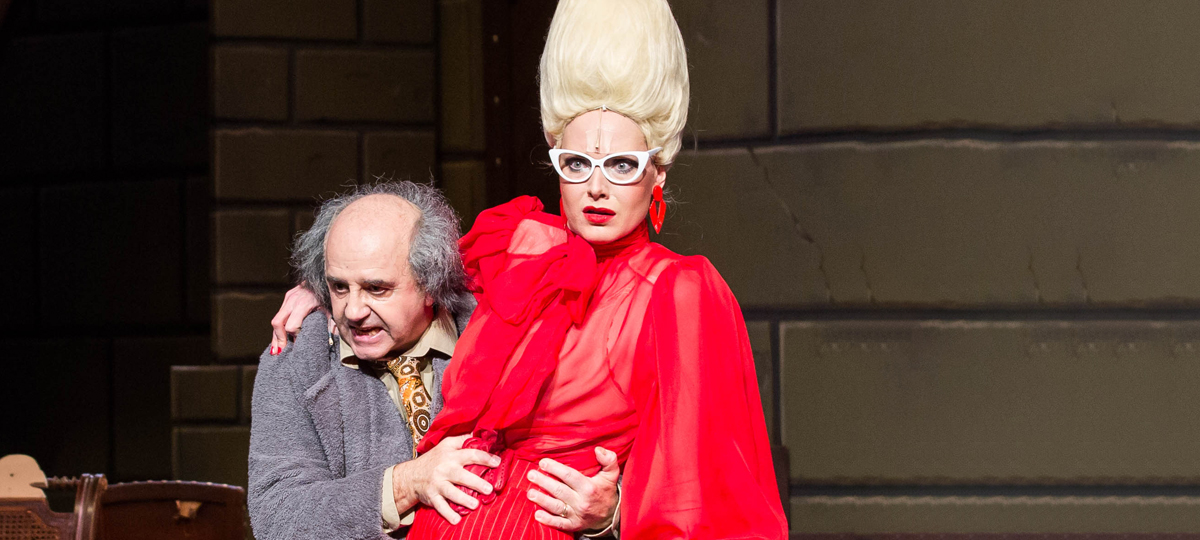 Detail
Realization Team / Cast
Show dates
Photo gallery
Articles, video, audio
Repetition Mar 19, 2023, 4.00 PM - Jiří Myron Theatre
Musical comedy based on the famous play by Molière
Informace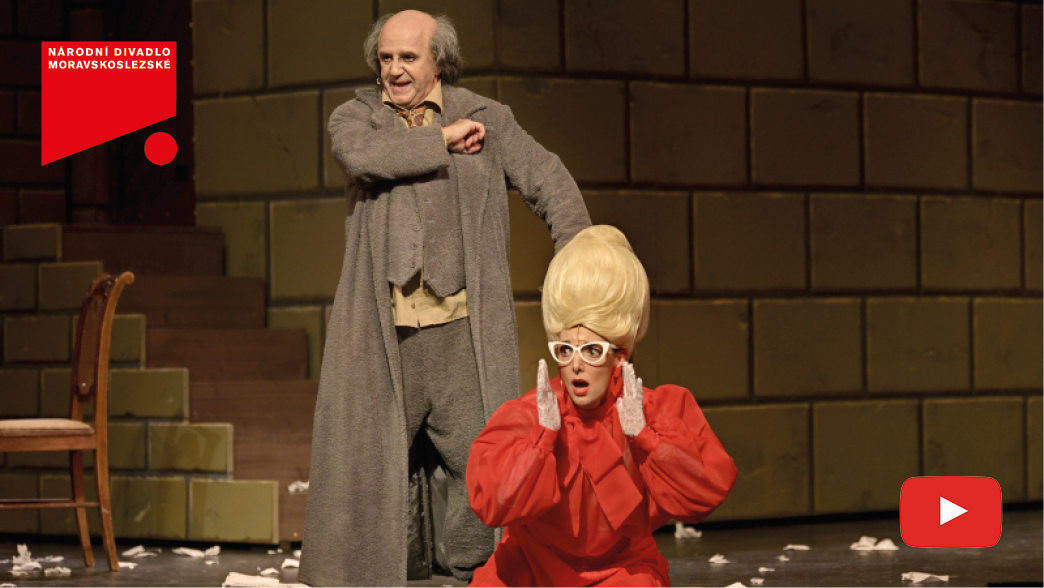 Libretto and stage direction by Vojtěch Štěpánek

Composed by Boris Urbánek

Lyrics by Jiří Krhut

A leading role portrayed by Libor Olma

It is an original musical based on one of the most famous classical comedies that follows the Pythons.

Harpagon, an oddball, who is considered to be filthy rich and mean, decides to arrange three weddings on the same day—his daughter's, his son's, and his own. Of course, for one price! But there is a catch. Harpagon wants to marry Mariane, his son's secret lover. At the same time, he wants his son Cléante to marry an eager German widow Gerda, and his daughter Elis, who is a secret lover of the steward Valére, is supposed to marry a hundred-year-old millionaire Anselmo… Moreover, a matchmaker Frosine and a wide range of Harpagon's bizarre relatives—who are none other than the protagonists of Molière's other plays—appear in the musical. This is the Harpagon as you know him, yet like a breath of fresh air.
| | | |
| --- | --- | --- |
| Media partners: | | |
| Partners: | | |
Buy tickets
Production team
Cast at date: Mar 19, 2023
Dates
Date
Time
Stage
Type
Detail
Tickets
Dec 15, 2021
Jiří Myron Theatre
Veřejná generální zkouška
show detail
Dec 16, 2021
6.30 PM
Jiří Myron Theatre
Premiere
show detail
Dec 18, 2021
6.30 PM
Jiří Myron Theatre
2nd premiere
show detail
Dec 27, 2021
6.30 PM
Jiří Myron Theatre
Repetition
show detail
Jan 6, 2022
6.30 PM
Jiří Myron Theatre
Repetition
show detail
Jan 14, 2022
6.30 PM
Jiří Myron Theatre
Repetition
show detail
Feb 18, 2022
6.30 PM
Jiří Myron Theatre
Repetition
show detail
Mar 12, 2022
6.30 PM
Jiří Myron Theatre
Repetition
show detail
Mar 13, 2022
3.00 PM
Jiří Myron Theatre
Repetition
show detail
Mar 15, 2022
6.30 PM
Jiří Myron Theatre
Repetition
show detail
Apr 6, 2022
6.30 PM
Jiří Myron Theatre
Repetition
show detail
May 3, 2022
6.30 PM
Jiří Myron Theatre
Repetition
show detail
May 17, 2022
6.30 PM
Jiří Myron Theatre
Repetition
show detail
May 20, 2022
6.30 PM
Jiří Myron Theatre
Repetition
show detail
May 25, 2022
6.30 PM
Jiří Myron Theatre
Repetition
show detail
May 28, 2022
6.30 PM
Jiří Myron Theatre
Repetition
show detail
Jun 2, 2022
6.30 PM
Jiří Myron Theatre
Repetition
show detail
Sep 7, 2022
6.30 PM
Jiří Myron Theatre
Repetition
show detail
Sep 28, 2022
4.00 PM
Jiří Myron Theatre
Repetition
show detail
Nov 11, 2022
6.30 PM
Jiří Myron Theatre
Repetition
show detail
Nov 27, 2022
4.00 PM
Jiří Myron Theatre
Repetition
show detail
Dec 8, 2022
6.30 PM
Jiří Myron Theatre
Repetition
show detail
Dec 31, 2022
4.00 PM
Jiří Myron Theatre
Repetition
show detail
Jan 21, 2023
6.30 PM
Jiří Myron Theatre
Repetition
show detail
Jan 22, 2023
4.00 PM
Jiří Myron Theatre
Repetition
show detail
Mar 19, 2023
4.00 PM
Jiří Myron Theatre
Repetition
show detail
Apr 21, 2023
6.30 PM
Jiří Myron Theatre
Repetition
show detail
tickets
May 26, 2023
6.30 PM
Jiří Myron Theatre
Derniere
show detail
tickets
Jun 24, 2023
6.30 PM
Jiří Myron Theatre
Repetition
show detail
tickets
Jun 25, 2023
4.00 PM
Jiří Myron Theatre
Derniere
show detail
tickets
Rehearsal gallery
Články
Video
Audio
Související